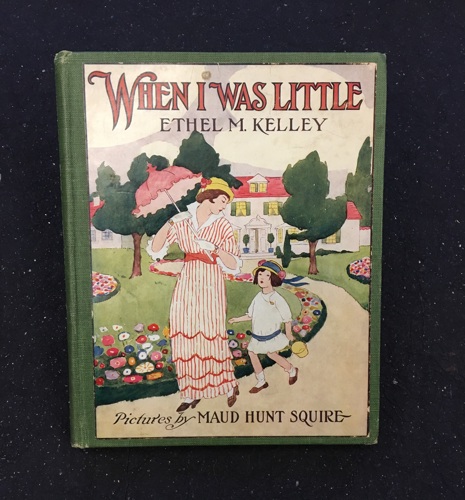 In Gertrude Stein's prose poem, "Miss Furr and Miss Skeene," one of her word portraits that appeared in Georgraphy and Plays, 1922, she celebrates the lives of two American expatriate artists living together in France at the beginning of the twentieth century. Stein identified the subjects of the work as Cincinnati artists Ethel Mars (1879-1959) and Maud Hunt Squire (1873-1954).
Mars and Squire met while attending the Art Academy of Cincinnati in the 1890s. This marked the beginning of a relationship that would last a lifetime.  They were both drawn to color and simplified forms in their work, they produced lively vignettes that chronicled the places and people they encountered during their travels.
After they completed their training at the Art Academy, they moved to New York and were hired as illustrators by the publisher R.H. Russell. In the early 1900s they moved to Paris. Like so many American artists and writers of the time, they felt a magnetic attraction to the city and quickly installed themselves at the local cafes. Immersed in Parisian bohemia, Mars was known to dye her hair purple and wear orange lipstick. They were early habituées of Stein's studio at 27 rue de Fleurus, where they fraternized with fellow artists Pablo Picasso and Henri Matisse. 
With the outbreak of World War I, they were forced to return to the states. They settled in Provincetown, a seaside community at the tip of Cape Cod, home to many avant-garde artists. Mars and Squire became involved with the Provincetown Printers. It was here that they learned to produce white-line woodcut prints. This method involves painting one block instead of using separate blocks for each color. The small grooves around the design result in the appearance of a white line.
After the war, Mars and Squire moved to the South of France. They were active in an artist Colony in Vence, with other notable artists such as Marsden Hartley, Chaim Soutine, and Ada Gilmore. Mars and Squire temporarily relocated to Isere, near Grenoble, France during World War II but ultimately remained in Vence for the rest of their lives.
A selection of children's books illustrated by Ethel Mars and Maud Hunt Squire are currently on display in the Mary R. Schiff Library and Archives during the month of November. These books show their artistic collaboration and demonstrate how they skillfully capture the spirit of childhood.