At the end of last year we introduced you to Mildred Fischer, who was a well-known Cincinnati artist.  Along with being a teacher and designer, she created weavings, prints, drawings, and was a prolific paper-maker. This last accomplishment is the focus of the exhibit on display at the Mary R. Schiff Library and Archives during the month of September.
Although already renowned for her weaving technique, Mildred began experimenting with paper-making in the late 1950s while teaching at the College of Design, Architecture, Art, and Planning at the University of Cincinnati.  As she continued to explore the medium she decided to seek instruction by traveling to Japan to further hone her craft. Here she worked with Eishiro Abe, a paper-maker designated a "living national treasure" by the Japanese government.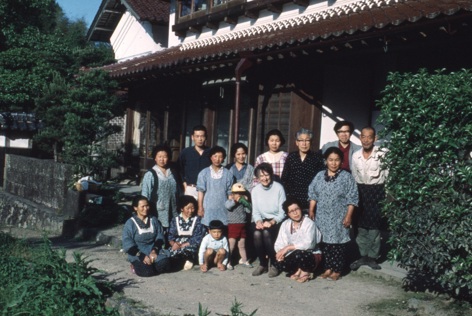 Eishiro made use of traditional materials and methods to produce gampi-shi, or washi made from fibers of the gampi trees. From this master paper-maker Mildred no doubt learned to produce gorgeous papers bringing together old-style techniques and modern sensibilities.  She often incorporated leftover bits of rags and unfinished weaving projects into her thick, hand-made papers.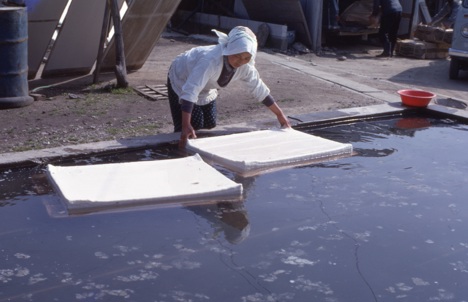 Floating paper posts in water to prevent sheets from sticking to one another
Mildred began to focus primarily on paper-making, and in 1978 an exhibit of her papers and weavings were featured at the Contemporary Arts Center. The subjects of these works reflected her interest in nature, the seasons, and the landscapes around her. In an article that appeared in the Cincinnati Enquirer Magazine that same year Mildred says of her work, "most of my excitement comes from things I see on walks, or in the woods, or in the water. I like alliteration, poetry, I get ideas from music and ballet. Or I'll see some random yarns in the basket and say 'Gosh, I think I'll make something with all those together.'" This same article by B.J. Foreman features images of Mildred as she goes through the paper-making process.  
Bleaching kozo, stirring with bamboo pole while boiling
Through her choice of medium Mildred Fischer blurred the line between art and craft. Former curator at the Contemporary Arts Center, Ruth Meyer, said of Fischer's work, "Her paper really aspires to all of the highest qualities of fine art, specifically painting. Though it is a form that we might easily associate with craft, it has subtleties and sophistication…In this malleable medium she attains a fine art statement."
Later this month on the evening of Thursday September 21 at 6:30 in the evening The Mary R. Schiff Library and Archives will host Dialogues with Artists featuring local paper-maker, book artist Margaret Rhein along with bookbinder, writer, and teacher Gabrielle Fox.
Dialogues with Artists is free and open to the public. Enjoy refreshments and conversations with the artists in the library space, located in the former building of the Art Academy of Cincinnati. On Thursdays the Cincinnati Art Museum is open from 11-8.
All illustrations are from the Cincinnati Art Museum archives.