And we'll make a file all about you.
This month in the library display case, we have an example of one of our local artist files. We collect all sorts of materials from local and regional (within a reasonable radius) Ohio artists; if you, the artist, were born in Cincinnati, attended school here, or worked here, we have a place for your materials. We collect everything related to you and your artistic endeavors—exhibition catalogs and announcements, flyers, newspaper clippings, letters, photographs, and so on. The more you give us, the more comprehensive and informative your file will be for future researchers.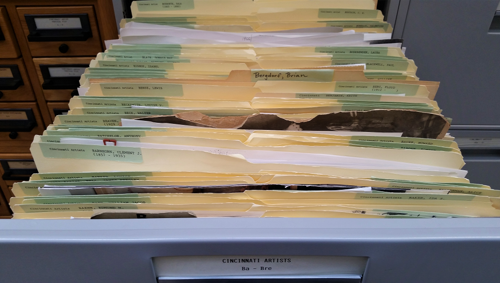 This particular file belongs to longtime Cincinnati resident, Jimi Jones. A founding member of the African American artists collaborative, the Neo-Ancestralists, Jones uses his art to "gain a better insight into other cultures as well as my own…based on the search for ancestral truths, both modern and ancient…truths [which] will allow me to break free of the parochial conventions of western cultures." As you can see, Jimi regularly gives us material for his file, so anyone researching him would have a relatively complete overview of his artistic activities from 1990-2009.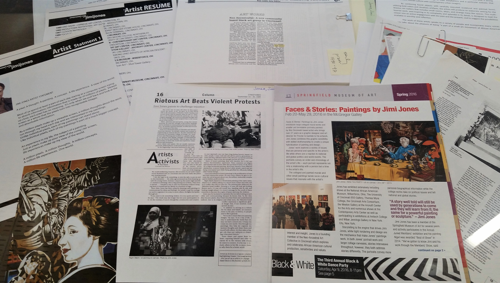 Next time you're wondering what to do with all those newspaper clippings you've cut out about yourself, think of us, the Mary R. Schiff Library & Archives, as the future protector of these invaluable materials and send us copies (or originals)! Or, if you're a researcher, we have artist files going back to the mid-19th century, for Clement Barnhorn, Robert F. Blum, Mary Louise McLaughlin, Charlie Harper, and Tom Shaw—to name a few.
If you're an interested artist or researcher, please send an email to [email protected].