The Art of Shifu
Cincinnati Art Museum – March 5, 2017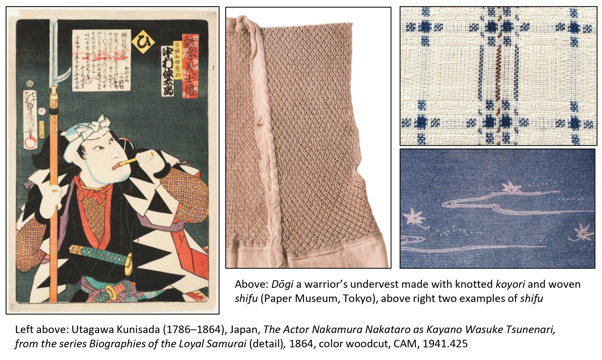 Dressed to Kill involved dressing to survive - wearing 35-50 pounds of leather and metal armor, and a dōgi made of shifu, a Japanese textile of woven paper thread and koyori, a knotted paper cord. "The dōgi was worn under samurai armor," said Susan Byrd, artist/author. "I would describe this sleeveless undervest as being mostly knotted together using a two-ply paper cord, with a woven paper cloth added to the bottom section. A mother made one such dōgi for her son in the hope he would be protected in battle according to Mr. Aoki, a curator at the Paper Museum in Tokyo." The origins, processes and unique qualities of shifu are the topic of a free lecture, The Art of Shifu, which Susan Byrd will present at 2 p.m. on Sunday, March 5, 2017 at the Cincinnati Art Museum in conjunction with Dressed to Kill: Japanese Arms and Armor.
While researching her book, A Song of Praise for Shifu, Byrd was shown the dōgi at the museum.  "The statement, 'Whoever wears this [undervest] is protected from a knife', was translated for me from documentation about the undervest." said Byrd. "It is intriguing to think that a paper cord would be strong enough to withstand the blade of a knife."
Shifu is first mentioned in written accounts in the early 1600s. Wives of farmers and fishermen often made their everyday clothes out of a woven paper thread made from recycled account book paper called a daifukuchō, whereas a much finer cloth called Shiroishi shifu was made by the Katakura family in the castle town of Shiroishi in northern Japan using specially made shifu paper," said Byrd. A quote translated from the book Shiroishi Washi, Shifu and Kamiko, by the late Nobumitsu Katakura reads, "It is very light and feels good to the touch."  Shifu is washable and becomes softer with each washing according to Byrd.
 The Art of Shifu will include a short demonstration of how shifu threads are made and a slide presentation with images of Samurai garments made of shifu as a tie into the exhibition Dressed to Kill: Japanese Arms & Armor.
 Byrd traveled to Japan in 1984 where she studied both Japanese paper (washi) and paper cloth (shifu) and later published the award-winning book A Song of Praise for Shifu. She is currently the admin of Paper Threads, Yarns, and Textile Facebook group. She continues to practice the art of making shifu and recently conducted a workshop, Paper Threadmaking, for the Cincinnati Book Arts Society.