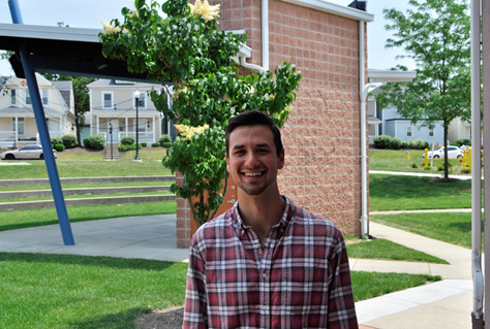 Over the summer I had the privilege of working as the Pollution Prevention Intern at the Cincinnati Art Museum (CAM).  My position came about because the Hamilton County Recycling and Solid Waste District awarded CAM with an internship to further our commitment to environmental, social and economic sustainability. I am a fourth year Human Rights Studies major with a Sustainability minor at the University of Dayton. I was born and raised on the Westside of Cincinnati and currently reside there.
In my role, my focus was creating a system to track the museum's utility usage through benchmarking, documenting previous sustainability accomplishments, and providing a roadmap forward for the CAM team.
Through the support of my amazing supervisors and team members, I was able to do this plus a little more. The museum is now able to track how much pollution the museum emits via utility tracking. It can then determine areas to reduce its pollution footprint to reduce environmental impact, be better stewards of the community, and save money. This summer has challenged us to be better, so this is just the beginning.
During the COVID pandemic, awareness of inequity and racism have allowed us, as employees of the museum to examine our position as an institution. Through this lens we are now better able to connect our sustainability initiatives to address inequity.
This means understanding how our energy and water consumption and waste generation negatively impacts our neighbors and other communities. Through collaboration and research, our team was able to create sustainability metrics that contribute to the diversity, equity, inclusion, and accessibility (DEIA) work that the museum is already undertaking.
Ultimately, I leave the museum with resources including metrics and museum sustainability comparisons. The CAM team will be using these as part of a roadmap forward to continue building on this work.
The museum will continue pushing forward to become even more environmentally, socially, and economically sustainable. If you are inspired by the work we have begun, or think we can do better, then let us know by emailing [email protected] We welcome suggestions to improve as an institution and we challenge all of our friends, like you, to continue learning how you can advance equity and sustainability in your own lives. We are in this together.