Here at the Art Museum, the Curatorial and Learning + Interpretation departments have a long standing tradition of hosting monthly bake-offs.  Each month, someone selects a theme (always inspired by the collection or special exhibitions), and we each whip up a delicious dish to in response to the theme.  This month, we're abandoning our traditional bake-off rules in favor of our first ever Peeps Showdown!

Taking inspiration from the Washington Post's annual contest, each contestant selected an artwork from the collection and set about interpreting that piece using everyone's favorite marshmallow treat: Peeps!  Normally, we bring in a finished dish to share during a bake-off.  This time, we thought it would be fun if we worked on our creations side-by-side.  Everyone brought in their own supplies, which could include Peeps, other edible items, and basic art-making supplies.  We had one hour to create our compoPeepstions, and the results were outstanding.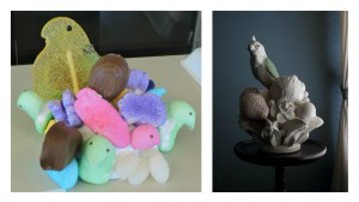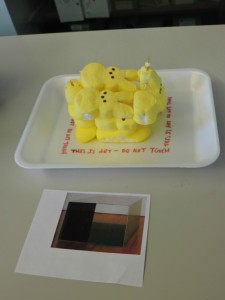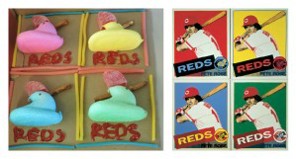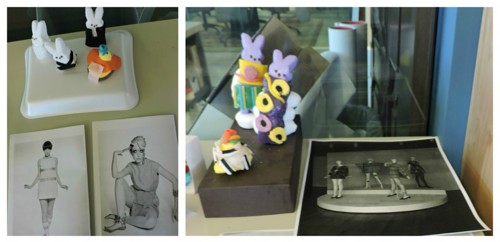 We had a panel of four illustrious judges: Emily Holtrop, Amy Dehan, Beth Griffith-Niemann, and Courtney Barlow.  Russell Ihrig won 3rd prize for his Peeps Mountain and Chelsea Baker took home 2nd prize for Peeptra.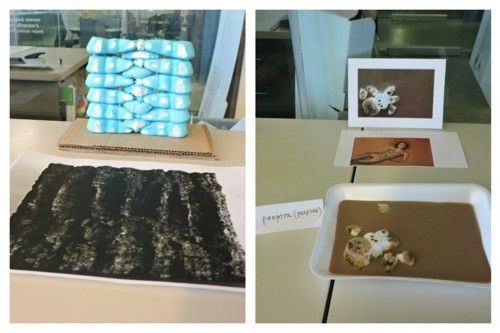 Our big 1st place winner was Sara Birkofer for The Peep Merchants.  Sara earns bragging rights, and the honor of selecting the theme for the next bake-off.  Congratulations!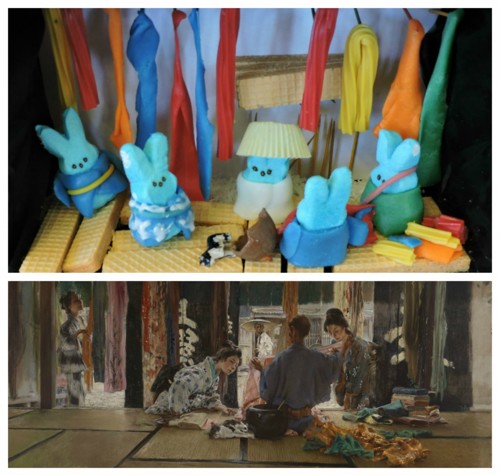 Image Credit:
Sandro Botticelli (Italian, b. 1445, d. 1510); Judith with the Head of Holofernes, c. 1469; Tempera on panel; John J. Emery Endowment; 1954.463
Katie Parker (American, b. 1980), Guy Davis (American, b. 1978) Still[ed] Life 2011; porcelain: glazed; Museum Purchase:Phyllis H. Thayer Purchase Fund; 2011.5
Grant Wood (American, b. 1892, d. 1942); Daughters of Revolution, 1932; Oil on Masonite;The Edwin and Virginia Memorial Fund; 1959.46
Andy Warhol (American, b.1928, d.1987); Pete Rose, 1985; Painting, acrylic on canvas with silk screen image; 4 panels, each 54 x 44 in. (137.2 x 111.8 cm); Museum Purchase: Bequest of Mr. and Mrs. Walter J. Wichgar; 1985.208a-d; © 2015 The Andy Warhol Foundation for the Visual Arts, Inc. / Artists Rights Society (ARS), New York
The Silk Merchant (American, b. 1857, d. 1903); The Silk Merchant, Japan,1892; Gift of the Procter and Gamble Company; 2003.56