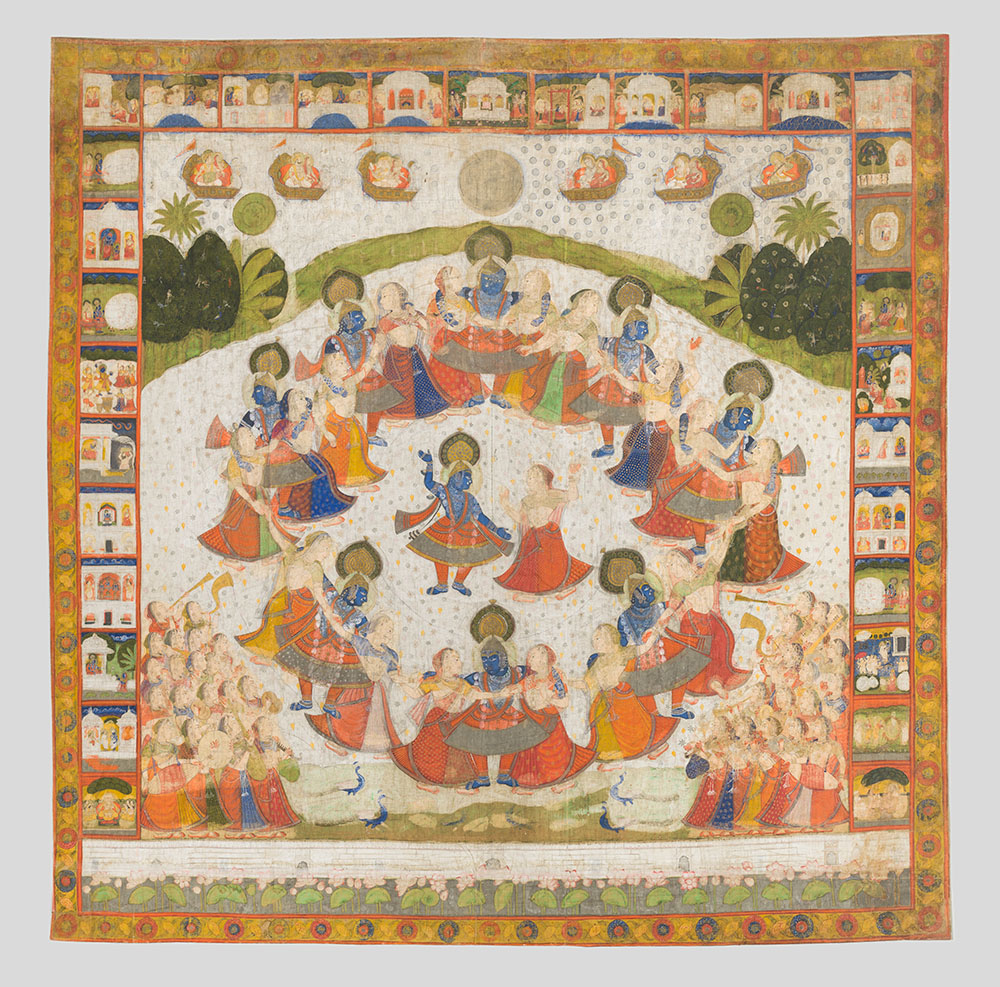 Krishna Dances with the Cowherd Women, circa 1850–1900, India; Rajasthan, Nathadwara, opaque watercolors, gold, and silver on cotton, Cincinnati Art Museum; Alice Bimel Endowment for Asian Art, 2018.115
Join us at CAM to experience the exceptional importance and power of dance in religious thought, literature, politics, and societal structures in Beyond Bollywood: 2000 Years of Dance in Art. This new exhibition considers the compelling visual language of dance in the arts from South Asia, Southeast Asia, and the Himalayan region from the first to the twenty-first century. Through 121 religious, courtly, and everyday objects, Beyond Bollywood illustrates how dance occupies a uniquely important place in the region.
See how the dance of the gods provides religious and ethical lessons and can also symbolize power and majesty. Explore how, in daily life, people have long danced for worship, for festivals, for the entertainment of emperors and princes, and for their own enjoyment.
Exhibitions of this size and scale take years to organize. We've been working on this project for four years—from conception, researching and writing, organizing loans, designing the gallery space—and finally—installing the objects for our visitors. One of the largest works on view is part of CAM's permanent collection: a pichhwai (wall hanging that hangs behind the image of a god) portraying the Hindu god Krishna dancing in a circle with female cowherders. It explores how dance is incorporated into devotional practice and can symbolize connection between devotee and the divine.
The photographs below portray conservation, curatorial, and installation colleagues working together to mount and display this glorious (and gloriously large!) textile. In the first photo, the backboard for the textile is being assembled in the gallery space by textile conservator Obie Linn, curatorial assistant Trudy Gaba, and preparator Claire Flath, visible under the table securing the board. Museum work encompasses all manner of tasks! In the second photo, Chief Preparator Joe Civitello is pinning the textile so it hangs safely for the duration of the show. 
Beyond Bollywood is jointly organized by the Cincinnati Art Museum and the Asian Art Museum in San Francisco. The exhibition premieres in Cincinnati before travelling to San Francisco in 2023. Use #BeyondBollywood on social media and share your experience with friends and family.