It's hard to miss the monumental 3-D capital "A" welcoming visitors to CAM's campus from Art Museum Drive. Painted a bright red—like the museum's brand color—some suggest the giant steel beam structure stands for "Art." But the artist's intent was not so marketing driven!
Sculptor Mark di Suvero (American, b. 1933) created this monumental work, titled Atman, between 1978 and 1979, and CAM acquired it in 1986. Here are a few fun facts about this outdoor sculpture, one of nine you can see on the museum's grounds …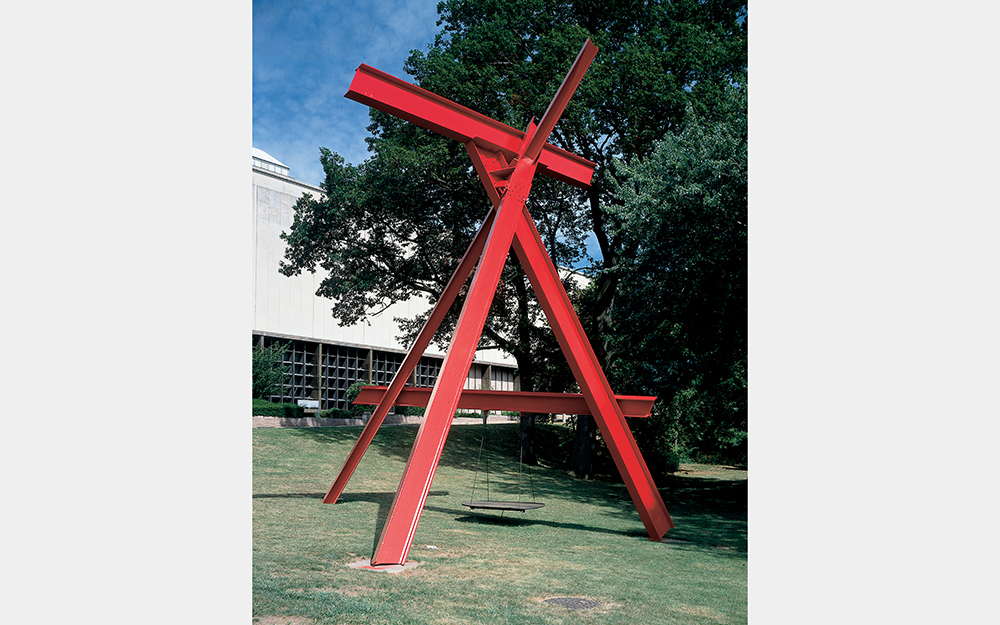 Before Cincinnati
Storm King Art Center (in New York state) exhibited Atman along with more than 15 other di Suvero sculptures and nearly 50 drawings as part of the artist's 1985 retrospective Mark di Suvero: 25 Years of Sculpture and Drawings. The work was disassembled soon after the exhibition's closing and shipped to its new home, here at CAM.
Why Cincinnati?
Journalist Owen Findsen quoted CAM Trustee David Reichert in a November 1985 article: "I've been working on this for four years ... There has been nothing at the museum entrance on Eden Park Drive to indicate that this is a museum ... We needed a major work right at the entrance."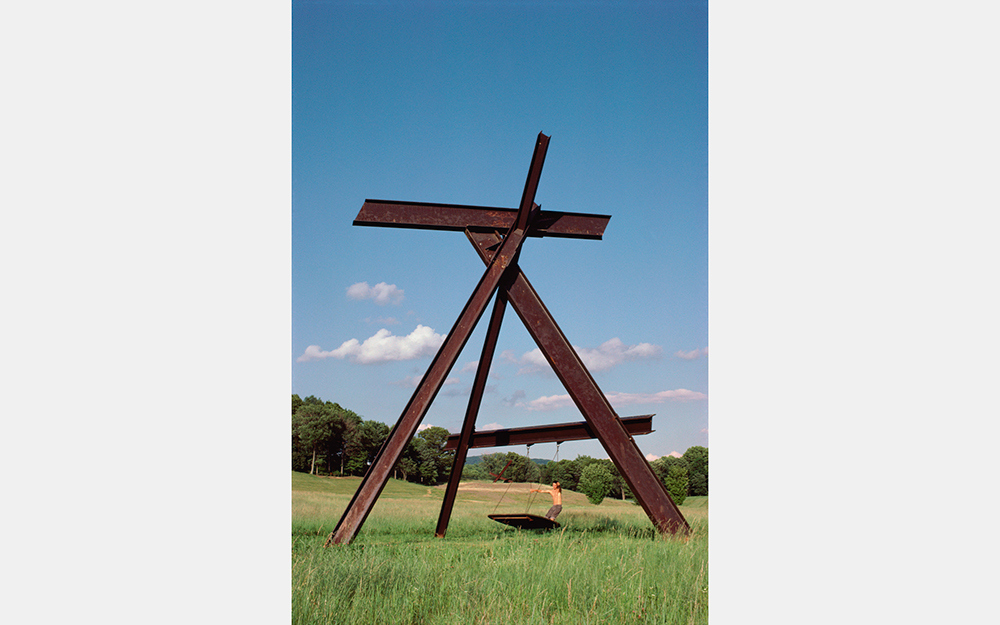 Moving and Conserving
Atman—like many di Suvero works—is designed to be taken apart to move it, clean it, and conserve it.
No easy task! A team disassembled the work in 2022 to make way for construction of a water detention system. Every 10 years or so, Atman is repainted its signature red color specified by the artist.
All Dolled Up
Atman wasn't always red! In this photo below, taken in 1985 shortly after it's installation on CAM's campus, Atman is not painted. Instead, the sculpture maintains its original rusted patina, a characteristic of the corten steel used to construct it. The museum painted Atman red, at di Suvero's direction, two years after its installation.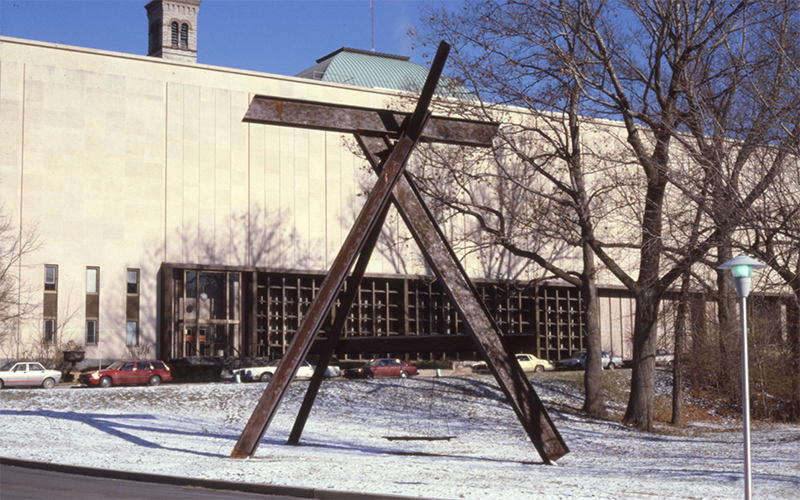 Sculpture as it appeared in 1985, before painted (photo from 1996 Member Magazine)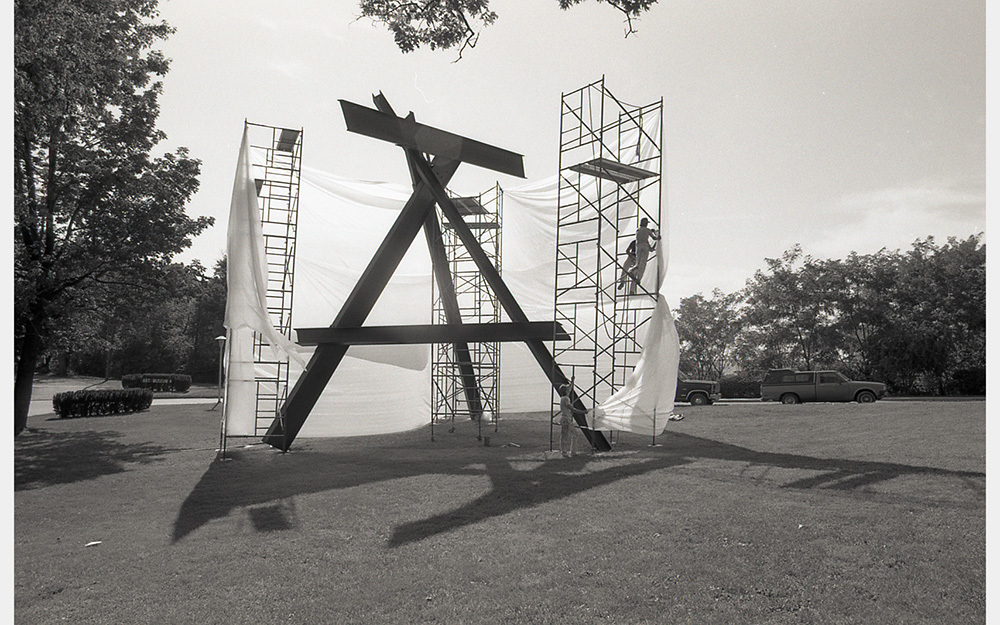 Gestures in Steel
Steel as a building material conjures images of stable frameworks welded together at right angles. But with Atman, di Suvero turns this notion upside down; steel beams seem to float and defy gravity. The artist drew inspiration from the gestural concepts of the Abstract Expressionists—namely Franz Kline—translating the painters' 2-D gestures into 3-D structures and reflecting a strong sense of movement.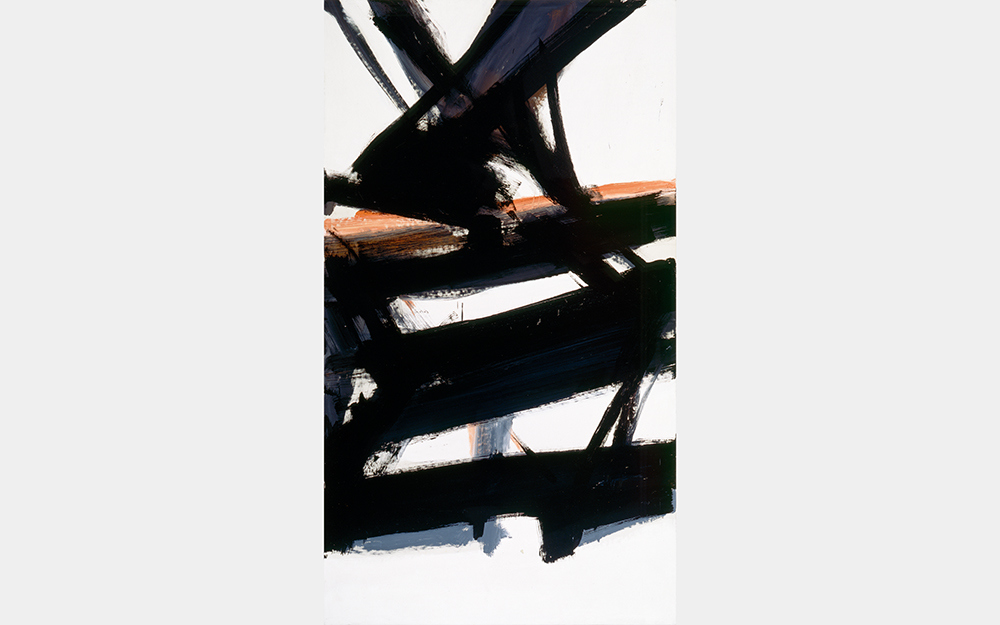 "Art That Really Swings"
Not only does the sculpture suggest movement, but di Suvero designed one element to actually move. A swinging platform allows people to sit and experience the work up close, prompting a Cincinnati Post art critic to dub Atman as "art that really swings." But today, the platform is anchored for peoples' safety.
What's in a Name?
Far from anonymous constructions, each of di Suvero's sculptures seems to reflect its own unique personality. Maybe that's why the artist names many of his works after musicians, philosophers, and others he admires. Atman means "inner self" or "soul" in Sanskrit and is inspired by Hindu and Buddhist philosophies, subjects the artist studied in college.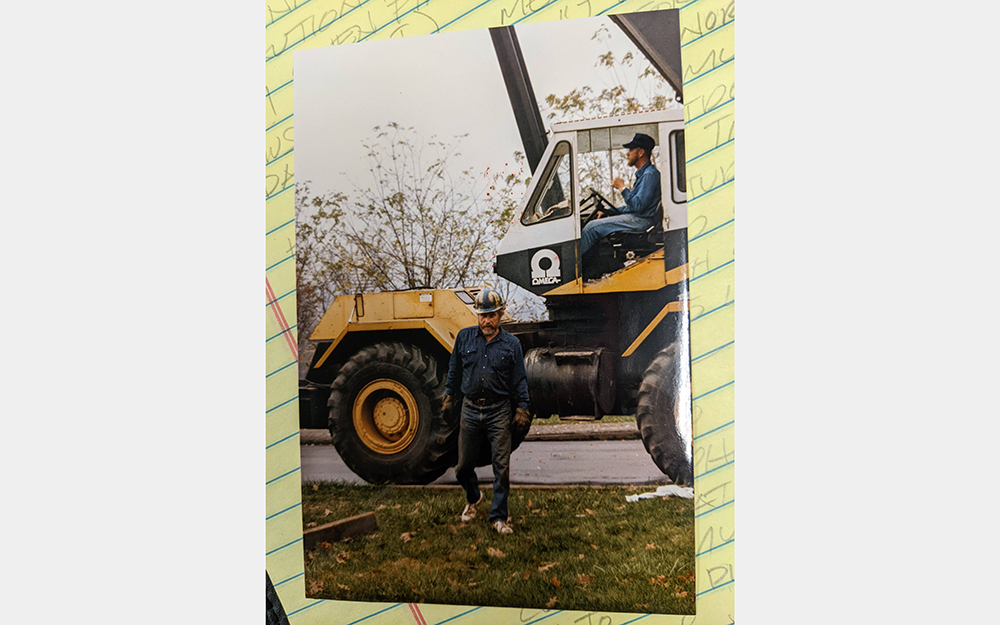 Snapshot of Mark di Suvero taken on November 13, 1985, during the installation of Atman at the Cincinnati Art Museum.
In His Own Words
Mark di Suvero was born in Shanghai in 1933 to Italian parents of Jewish descent. He began his career as an artist while attending the University of California, Santa Barbara. After graduation, he made sculptures while working part-time in construction. A near fatal elevator accident damaged his spine, but after four years of healing, di Suvero was able to continue his career. Learn more about the now 90-year-old artist in this video interview recorded by ArtForum in 2016.