Hello from the Rosenthal Education Center, or as we like to call it –the REC! If you've visited the REC this week, you might have noticed that it was a bit of a wRECk. Why, you ask? This week we have been hard at work installing all NEW activities and creative opportunities for our favorite visitors (hint: that's YOU!). For the next six months, when you visit the REC you will have the opportunity to explore pattern and texture in art through fun hands-on activities that relate to art in the museum collection!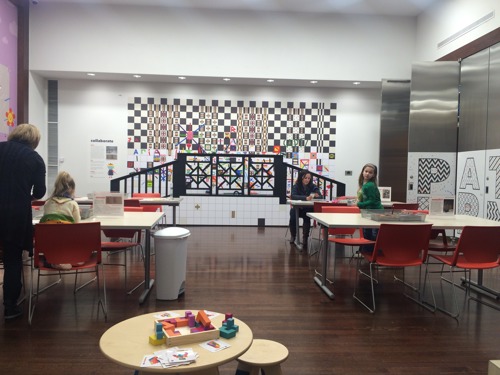 The view from Alex's desk!


Climb to the top of an art platform to add to a multi-level collaborative tape mural that covers one wall of the REC and learn about weaving featured in the newly re-installed African gallery next door. Try your hand at burlap embroidery while learning about embroidery samplers in the museum's folk art collection. Design a mosaic using magnetic ceramic tiles or try viewing images of artwork from the museum in different styles of frames. Younger visitors will have fun coloring in a giant stained glass window based on a Tiffany window featured in Tiffany Glass: Painting with Color and Light, creating patterns with giant foam tangrams, or curling up in our "texture pit" for story time!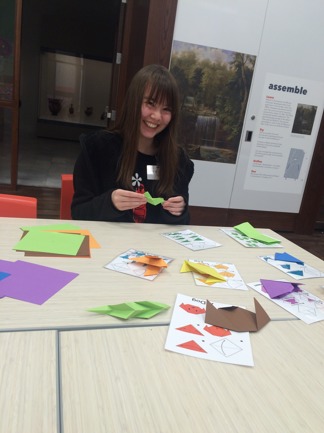 A wonderful volunteer creating examples for the origami station!

Fans of the Art Bar (our open ended creative art making spot) will enjoy some awesome new materials thanks to Indigo Hippo! Indigo Hippo is an art supply thrift store and creative reuse space in downtown Cincinnati that is generously supplying us with fun new materials each month for visitors to incorporate into their art projects. This month there are laminate tile samples and gigantic wallpaper books. We can't wait to see what they come up with for April!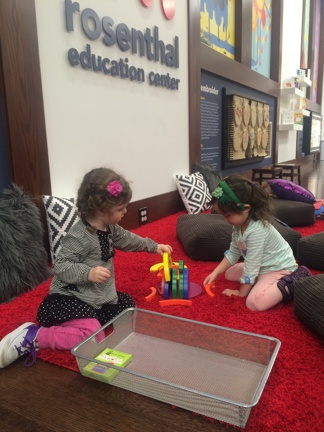 Young visitors creating towers in the texture pit.
The art museum is not only a wonderful educational resource for families, but is home to one of the most happening homes for creativity and fun in Cincinnati –the REC!  The REC is open during museum hours and is always free. Stop by and say hello!

Your friend in art,
Alex