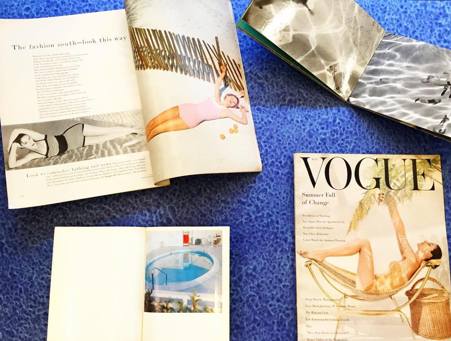 It's hot out there!  The dog days of summer are passing by rapidly here in our muggy Ohio River Valley. How do you manage to stay cool in such tropical times? A POOL PARTY!
Whether indoors or outdoors, pools have played a big part in entertaining and keeping us cool. Additionally, swimming pools can evoke many ideas and associations including, a leisurely oasis or escape, wealth, fun, or even Busby Berkley style synchronized Hollywood numbers. According to various interpretations when one dreams of a swimming pool it can mean having a deep connection to one's unconscious.   
A trip to the pool of course requires fashionable swimwear. Come in from the heat to view a selection of swimming pool-themed items from our library collection. On view through the end of August you can see can some splash-worthy works such as an artist book, Water Ballet/Family Collision, by Laurie Simmons. Known mainly for his paintings, Ed Ruscha, captured the spirit of the LA landscape in his 1968 book, Nine swimming pools and a broken glass.  Also, on view are some beach-worthy examples of bathing suit fashions of the past from a selection of vintage Vogue magazines. Along with these we have materials featuring the history and evolution of swimwear.