A silver lining of the pandemic years for many has been a renewed appreciation of outdoor activities. These very years have coincided with a major series of initiatives at the museum to revitalize our outdoor "galleries"—the hilltop grounds that, like our art collections, we steward, study, and present for our community.
From adding a horticulutarist to our staff, to opening the transformative Art Climb, to our most recent undertaking of brining visitors to the museum up a new front drive (opening later this month), we aim to embrace art and community more than ever outside the museum walls. In these times, and into the future, enriching our presentation of sculpture in outdoor settings is a crucial part of this activity—through loans from institutions like Pyramid Hill Sculpture Park and Museum, restaging our collection, and new acquisitions.
Isabella, 2014
As a sculptor, Jaume Plensa worked intensively with language and light before moving decisively into figural work. Isabella looks inward, the girl's peaceful features lifting us upward even as the monumental scale of this 6-ton portrait anchors it to the ground.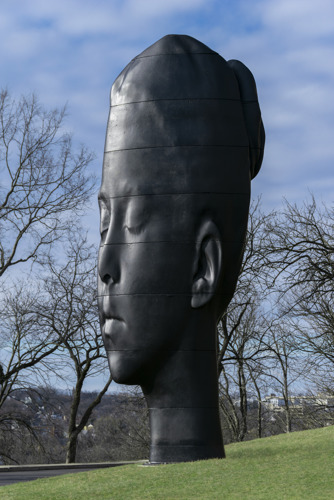 Jaume Plensa (Spanish, b. 1955), Isabella, 2014, cast iron, Gift of Craig and Anne Maier, 2021.82
Wind Sculpture (SG) IX, 2020
Working across media, Yinka Shonibare explores issues of colonialism, race, and class. Wind Sculpture's form freezes in time fabric tossed by the wind. Its painted surface draws upon eighteenth- and nineteenth-century fabrics inspired by Indonesian patterns and made in Europe for the African market.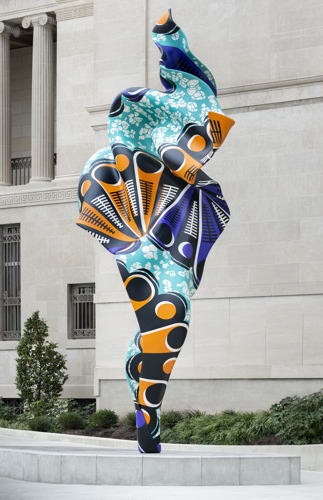 Yinka Shonibare (British-Nigerian, b. 1962), Wind Sculpture (SG) IX, 2020, stainless steel armature, hand painted glass, reinforced polyester, Museum Purchase: Ursula Laurens Family Trust, Jimmie Otten Gillespie Memorial Fund, The Susan & William Friedlander Endowment Fund, Cincinnati Art Museum Docents, in honor of their 60th anniversary, 2021.80
Pinocchio (Emotional), 2007
With deep investigations of familiar imagery, reiterated across multiple media, Jim Dine—Cincinnati's hometown hero—has charted a unique and profoundly influential path, often outside the confines of major art movements, across the past six decades. Pinocchio is arguably his most exuberant sculpture.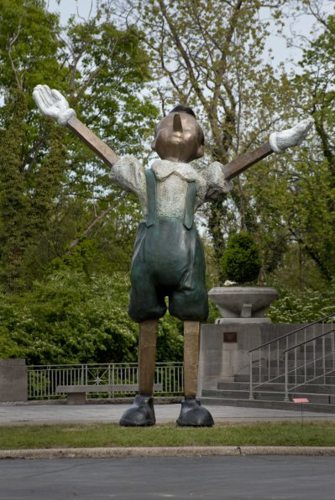 Jim Dine (American, b. 1935), Pinocchio (Emotional), 2007, bronze, Museum Purchase: Lawrence Archer Wachs Fund, Mr. and Mrs. Harry S. Leyman Endowment, Phyllis H. Thayer Purchase Fund, A. J. Howe Endowment, Henry Meis Endowment, On to the Second Century Art Purchase Fund, Israel and Caroline Wilson Fund, Trustee Art Purchase Fund, and Tom and Dee Stegman, 2012.9 © 2016 Jim Dine / Artists Rights Society (ARS), New York
Skybound, 2012
In addition to being a sculptor, Barton Rubenstein is a neuroscientist with expertise in visual cognition. On loan from Pyramid Hill Sculpture Park & Museum, Skybound restructures Constantin Brâncuși's Endless Column, a keystone of early twentieth-century modernism, releasing its modular elements, which here seem to float.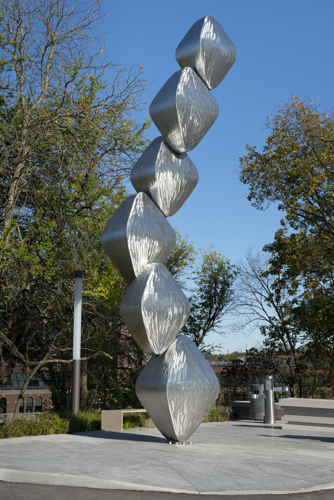 Barton Rubenstein (American, b. 1962), Skybound, 2012, brushed stainless steel, on loan from the Pyramid Hill Sculpture Park & Museum
Cube '97, 1997
Best known for his sculpture in public spaces, Tony Rosenthal has produced major works in cities across the United States. The playwright Edward Albee described his work: "His monumental outdoor pieces, set in landscapes or in busy city spaces, seem always to have been there…Like all the important metal workers—like [Richard] Stankiewicz, like [Anthony] Caro, like [Richard] Serra, like [John] Chamberlain—Rosenthal's objects instruct us, alter our perceptions, disturb and thrill us by their audacity, their wonder and their inevitability."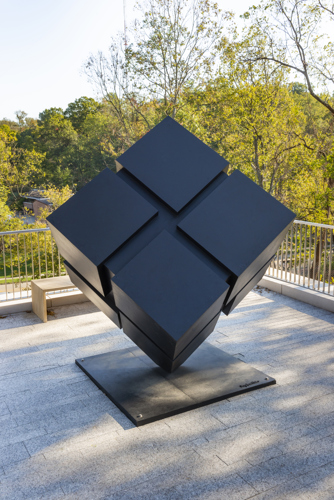 Tony Rosenthal (1914–2009), United States, Cube '97, 1997, painted steel, on loan from Pyramid Hill Sculpture Park & Museum
LBD Duty Free, 2014
In Chakaia Booker's signature use of recycled tires and geometric abstraction, material and technique combine to evoke an array of references—from textiles to animal fur, scarification to industrial machinery—while also pointing to the complexities and environmental impact of modernity.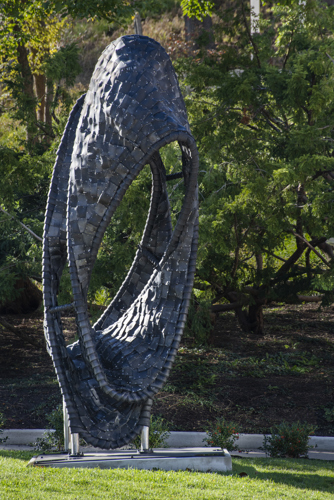 Chakaia Booker (American, b. 1953), LBD Duty Free, 2014, reclaimed tires and stainless steel, courtesy of the artist, made possible through partnership with Pyramid Hill Sculpture Park & Museum
Atman, 1978–79
One of America's great masters of metal, Mark di Suvero embraces industrial materials in large-scale sculptures that can define and respond to the landscape and often invite interaction, as here with Atman's beloved swinging platform. This sculpture was temporarily moved for construction of a water detention system. It will be back on view later this summer.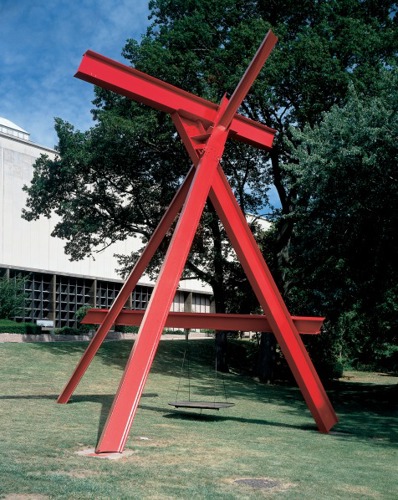 Mark di Suvero (American, b. 1933), Atman, 1978–79, painted steel, wood, The Edwin and Virginia Irwin Memorial, 1986.36 © Mark di Suvero 2016