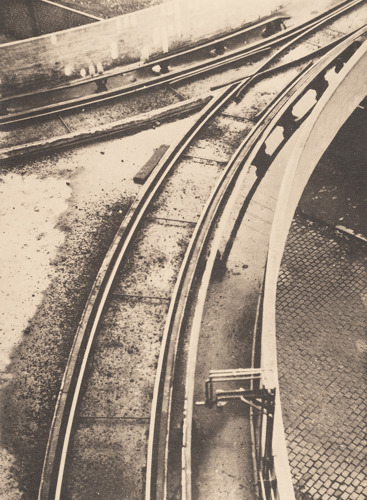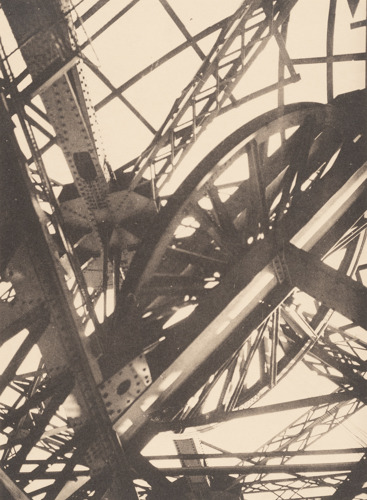 In fall of 2019, the CAM curator of photography and I were peering into books in the stacks of the Mary R. Schiff Library & Archives. Our project was to identify books that might enter the FotoFocus Photobook Collection—a growing, open-access collection housed in the Library. The Photobook Collection includes groundbreaking new titles alongside those that have become historical touchstones of the genre. It was this latter category that was our focus that day, as we thumbed through the Library's rich holdings. Titles including Robert Frank's The Americans and Edward Ruscha's Twentysix Gasoline Stations were among those to receive the official FotoFocus Photobook Collection stamp. But as we examined the photomechanical prints contained in Germaine Krull's Métal, the curator recommended a different path. Wheels were set in motion, and Krull's groundbreaking modernist work now resides in the Photography Collection at the museum.
Krull considered the photobook, rather than the exhibition, to be the ideal culmination of a project. Martin Parr and Gerry Badger's The Photobook: A History Volume I (Phaidon, 2004) describes Métal as "the finest example of a modernist photobook in the dynamic, cinematic mode." Depicting modernist giants in Rotterdam and Paris, the compendium forms a lively visual tour—not of industrial landscapes via skylines or full building views, but rather through portraits of the intersecting metal armatures that make up cranes, bridges, towers, and machines. In the images above, we see views depicting splitting railroad tracks at the Paris Métro and the dizzying inner workings of the Eiffel Tower. The portfolio's sequence has a cinematic feel, echoing the experience of filmic montage with changes of perspective and unpredictable shifts from one location to another.
Born in 1897 in Wilda-Poznań, East Prussia, Krull would become a pioneer of avant-garde photography, the photobook, and photographic journalism. She was also a political activist and resided on four continents over her nine-decade lifetime. Watch for a future installation of Métal in the museum galleries. And in the meantime, if you'd like to read more about Krull's extraordinary life, an excellent biography by Kim Sichel—though out of print—can be found at the Cincinnati Public Library.
Image credit: Germaine Krull (1897–1985), untitled plates from the portfolio, Métal, 1928, collotypes (photomechanical prints), Library Transfer, 2019.298.22-23. © Estate Germaine Krull, Museum Folkwang, Essen