Bundle up and enjoy these wintry scenes from the museum's permanent collection during your next visit or cuddled up on the couch with a cup of tea.
Last Flowers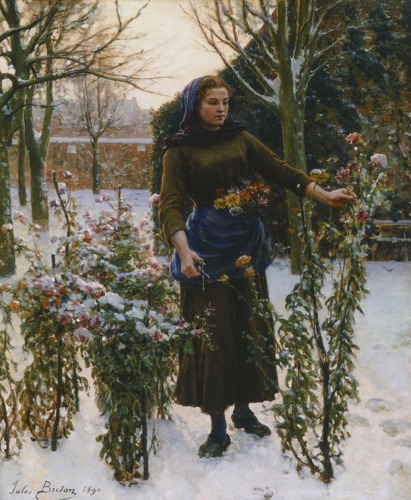 Jules Breton's paintings unite an academic concern for ideal beauty and refined technique with the realism found in paintings of peasants popularized in mid-1800s France. Most of Breton's scenes feature rural workers engaged in everyday tasks. Rather than expressing the drudgery of agrarian labor, his subjects–like this young woman gathering a late bouquet from a snowy garden–approach their chores with simple joy and pride in accomplishment. As one contemporary reviewer noted, "Both [Millet and Breton] celebrate the occupations of rural life, the former with a kind of savage melancholy, the second with tender solemnity, austere grace and epic simplicity." Although he was primarily a figure painter, Breton's paintings are distinguished by a sensitivity to landscape, light, and atmosphere.
Listen to a museum docent discuss this artwork in our CAM Look episode published on August 21, 2020.
Jules Breton (French, 1827–1906), Last Flowers, 1890, oil on canvas, Gift of Emilie L. Heine in memory of Mr. and Mrs. John Hauck, 1940.955. This artwork is currently on view in Gallery 225.
Indian Elk Hunting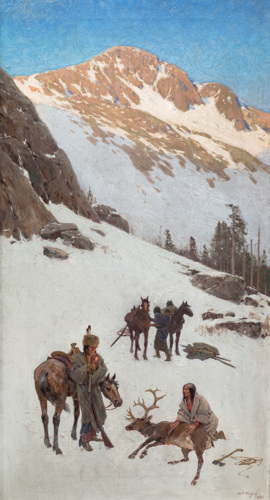 This blustery winter scene shows the quiet aftermath of an elk hunt. A woman pauses just before she begins to skin the elk laid before her, and the hunter stops to light a small pipe. In the background, a woman carrying a papoose readies the horses to carry the game away.
Henry Farny painted images of the hunt in all seasons, paying homage to ways of life established long prior to white settlement and devastation. This particular view has a sense of solitude and somber isolation. Farny suggests both the expertise and need of indigenous Americans required to capture and process game in the deep winter snow. White settlers, by colonizing the land, had decimated nearly all the game available, making it more difficult for the indigenous people of the land to provide food for themselves.
Henry Farny (American, 1847–1916), Indian Elk Hunting, 1902, oil on canvas, Bequest of Frieda Hauck, 1955.529. This artwork is currently on view in Gallery 122.
Garfield Park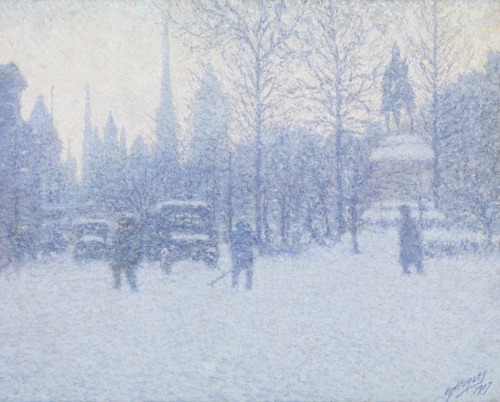 When this evocative painting of downtown Cincinnati appeared at exhibition in 1917, the critic for the Enquirer declared it "very fine with its tender winter atmosphere." Edward Timothy "E.T." Hurley was adept in a surprising array of media: he is best known as a decorator of Rookwood Pottery and an etcher of scenes around Cincinnati, but he also produced decorative metal work, oil pastels with sticks of his own invention, and a relatively small number of oil paintings. In his paintings, etchings and "scenic vellum" Rookwood vases, Hurley reveals a strong preference for weather conditions that blanket his subjects in haze. He built up the surface of Garfield Park with stroke upon stroke of paint, creating a texture peculiarly suggestive of snow.
Edward Timothy Hurley (American, 1869–1950), Garfield Park, 1917, oil on canvas, Bequest of Alice Belle Bettman, 1990.1350. This artwork is currently on view in Gallery 121.
Midnight Mass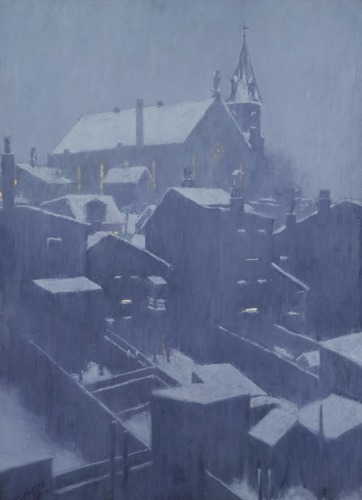 Many of the decorators at Rookwood Pottery excelled in other media, but none more so than E.T. Hurley. Not only did Hurley produce exquisite ceramics, but he also became a skilled metalworker, an expert printmaker, and a fine painter.
In the Midnight Mass, buildings hug the steep slope of Mount Adams, surmounted by the Immaculata Church. The city's site on the river and its industrial pollution, primarily from the burning of soft coal, created smoggy atmospheric conditions that rivaled London's at the time. Painters like Hurley loved the enveloping haze of Cincinnati, which blanketed the city in quietude and elicited poetic sentiments. A writer from Harper's Monthly seems to describe Hurley's painting perfectly:
The white vapors of the Ohio invade the streets, arrest and mingle with smoke, immerse all things in obscurity, and convert the creations of architects, great and small, into noble masses, free from all smallness or meanness of detail.
Listen to a museum staff member discuss this artwork in our CAM Look episode on April 29, 2020.
Edward Timothy Hurley, (American, 1869–1950), The Midnight Mass, 1911, oil on canvas, Gift of Mr. and Mrs. Simon Hubig, 1911.1372. This artwork is currently on view in Gallery 118.
Winter Landscape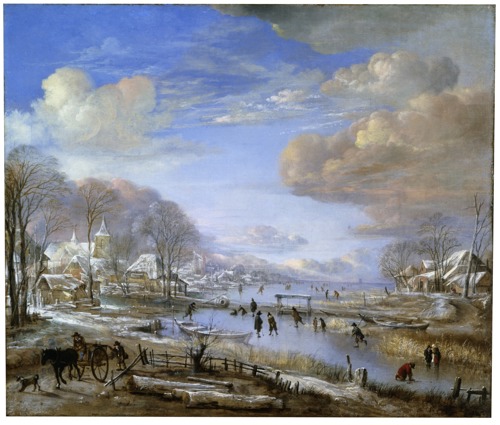 Aert van der Neer specialized in a narrow range of landscape subjects–sunrises and sunsets, night scenes, and winter scenes. This capitalized on his unique ability to represent subtle effects of light and atmosphere. In this picturesque scene, van der Neer captures the fragile quality of northern light in winter. Beneath a brilliant sky heavy with masses of delicate clouds, a cluster of snow-capped buildings lines a frozen waterway. Skaters and people playing kolf (a ball and club game) amuse themselves on the ice while a man guides a horse-drawn wagon down the road at left. Van der Neer enlivened the muted palette of this frozen landscape by including a few figures clad in bright red garments.
Aert van der Neer, (Dutch, 1603/04–1677), Winter Landscape, late 1640s, oil on canvas, Gift of Audrey Emery, 1953.1. This artwork is currently on view Gallery 205.
Dresser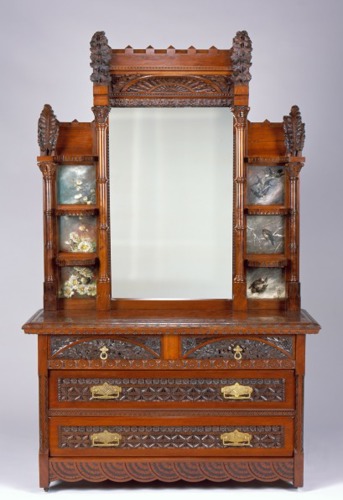 Note the bleak winter scenes painted on the lower right panels that frame the mirror of this Cincinnati art carved dresser. One panel depicts a single bird perched on a snow-covered branch while the other features a lifeless bird on the ground. Together, all six panels depict the seasonal cycles of the year and life. Art museum curators believe that these panels were painted by Elizabeth Nourse, the talented Cincinnati-born painter and the twin sister of Adelaide Nourse Pitman. This dresser is currently on view in Gallery 111.
Dresser, 1882–83, Benn Pitman (American, 1822–1910), designer, Adelaide Nourse Pitman (American, 1859–1983), carver, Elizabeth Nourse (American, 1859–1938), attributed painter, American black walnut, white oak, painted panels, glass and gilt brass, Gift of Mary Jane Hamilton in memory of her mother Mary Luella Hamilton, made possible through Rita S. Hudepohl, Guardian, 1994.62
The Landing Stage at Boulogne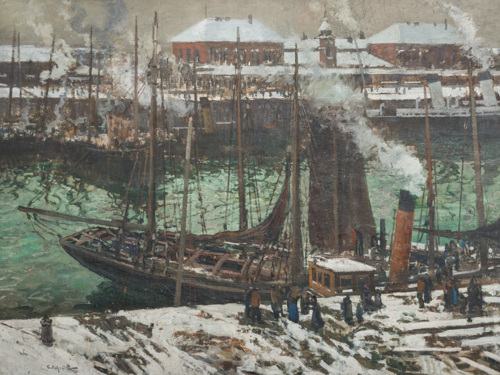 Boulogne-sur-Mar (Boulogne by the Sea) on the English Channel was one of France's busiest ports in the early 20th century. It was known for its fisheries and robust trade in manufactured goods from woolens to concrete. The city's industrial harbor was, for a time, a favorite subject of Walter Elmer Schofield, a Pennsylvania Impressionist who made paintings of winter a specialty. The Landing Stage is so evocative in its atmospheric effects that you may imagine the snow crunching beneath your feet. Muted colors and variations in brushwork and paint thickness achieve these effects. Dabs of paint suggest the plumes of steam hanging in the frigid air and squiggles suggest the chill breeze on the water.
Schofield clearly designed this large exhibition painting to impress. He commissioned H.W. Taylor of London to make the elaborate handcrafted frame a work of art in itself, that would have drawn attention to his picture.
Walter Elmer Schofield (American, 1867–1944), The Landing Stage at Boulogne, 1908–9, oil on canvas, Annual Membership Fund, 1913.85. This artwork is currently on view in Gallery 216.
Bloody Run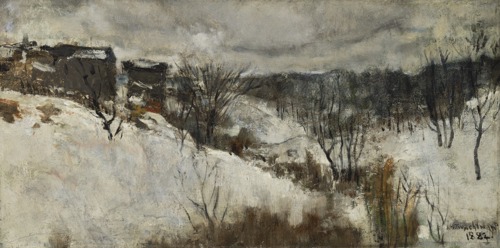 In 1881, John Henry Twachtman settled in Avondale and painted a series of rough, wintry landscapes. At the time, Avondale was evolving from a rural area to a middle-class suburb. Although Twachtman's view may at first seem desolate, the roofs of nearby houses appear at the top of the hillside.
In Twachtman's day, Bloody Run was the name of a creek in Avondale. The trail that ran alongside it became Bloody Run Parkway, then Victory Parkway after World War I. Two popular legends surround the name's origin: some think it was the site of a confrontation between settlers and Native Americans, while others believe the run-off from slaughterhouses in the area gave the creek its name.
Listen to a museum staff member discuss this artwork in our CAM Look episode published on November 25, 2020.
John Henry Twachtman (American, 1853–1902), Bloody Run, 1882, oil on canvas, Gift of The Proctor & Gamble Company, 2003.109. This artwork is currently on view in Gallery 119.
Old Holley House, Cos Cob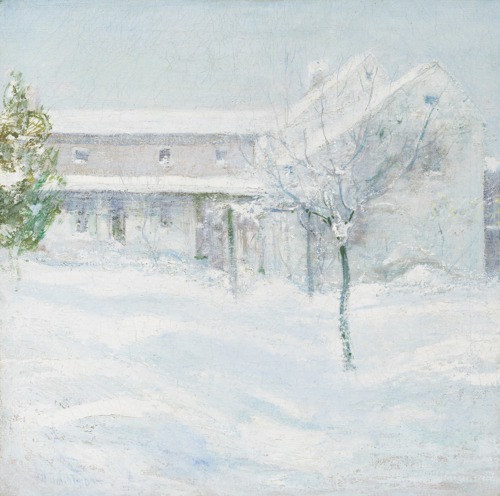 Twachtman appreciated the way that a blanket of snow can make details seem to disappear from view. For this painting, he chose a square canvas that emphasizes the geometric lines of the house. He applied paint in thick, crusty layers without a coat of varnish, which effectively suggests the texture of the snow. To provide some contrast, Twachtman used touches of brilliant greens as accents to the cool hues, as in the fir tree at the left.  
The painting is a view of the Old Holley House, a boarding house near the Connecticut coast that was a haven for the American Impressionists. In summers, the art colony was abuzz with such talents as Childe Hassam (1859–1935), J. Alden Weir (1852–1919) and Twachtman, who taught classes in landscape painting. Twachtman, however, often remained after others had left for the winter, finding beauty and comfort in the old house and its surroundings.
Listen to a museum docent discuss this artwork in our CAM Look episode published on December 22, 2020.
John Henry Twachtman (American, 1853–1902), Old Holley House, Cos Cob, 1901, oil on canvas, John J. Emery Fund, 1916.3. This artwork is currently on view in Gallery 121.
Snow Scene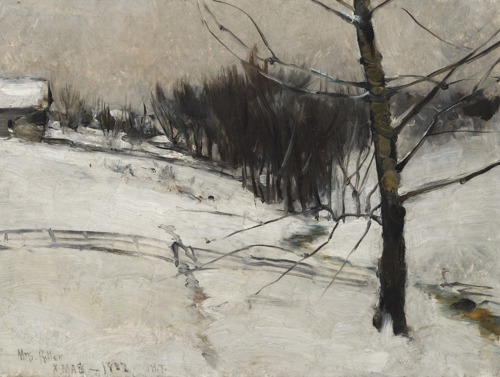 Twachtman used a somber palette and energetic brushwork to evoke the sensation of dusk on a cold, damp, blustery day. In his spare composition, there are arched lines of bare branches, hillsides, and a fence that are reminiscent of Asian calligraphy. With these dark elements and touches of ochre and rust, Twachtman created a contrast with the neutral tones of snow-covered terrain and grey sky.
In 1881, Twachtman married art student Martha Scudder and moved in with her family in Avondale (as mentioned above), where he painted this intimate landscape. During the nineteenth century, Avondale was a refuge from the industrial commotion of downtown. Yet Twachtman, with his gritty, atmospheric landscapes of the rural suburb suggests the impossibility of escaping the soot.
John Henry Twachtman (American, 1853–1902), Snow Scene, 1882, oil on canvas, Bequest of Louise Drude, 1916.9. This artwork is currently on view in Gallery 215.
The Four Seasons: Winter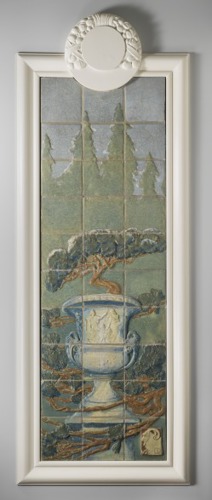 This large ceramic panel is part of a larger four-part mural depicting the four seasons. Here, Rookwood artist John Dee Wareham created a landscape that includes a potted juniper tree surrounded by evergreen branches and trees. A dusting of snow lies on the top of the juniper and on the branches of the trees in the background. At lower right, the zodiac sign of Capricorn, a goat, also indicates winter.
This mural panel is on view in gallery 126 with its counterparts Spring, Summer and Autumn. Together, they once graced the four great corner piers in the Hotel Sinton's Grand Café which was located at Fourth and Vine Streets, Cincinnati.
The Four Seasons: Winter, 1907, The Rookwood Pottery (American, est. 1880), John Delaney Wareham (American, 1871–1954), designer, architectural faience, Gift of Mr. and Mrs. James R. Williams, 1971.355
Winter in Cincinnati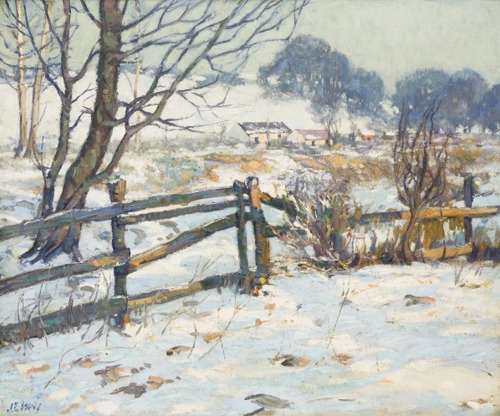 In winter views of Cincinnati locales, John Ellsworth Weis moved his brush in broad gestures to create atmosphere. In the foreground of this painting, the light plays off the shadowy dips in the snow; indicated with strokes of blue. Note the way this composition is bisected through the center by the dilapidated fence and dominated on the left by a skeletal tree.
Raised in Norwood, Ohio, Weis was enrolled by age fourteen in night classes at the Art Academy of Cincinnati. A student of Frank Duveneck, he taught at his alma mater from 1918 to 1955, carrying his mentor's legacy well into mid-century. His works vary widely in style, from Impressionist landscapes of the 1910s and 20s to bold expressionistic works of the 1930s and later.
John Ellsworth Weis (American, 1892–1962), Winter in Cincinnati, ca. 1920s, oil on canvas, Gift of The Proctor & Gamble Company, 2003.114. This artwork is currently on view in Gallery 121.
---
Finally, listen to a museum staff member take us through a wintery walk through the permanent collection whilst enjoying Tchaikocsky's Waltz of Snowflakes from The Nutcracker as performed by the London Symphony Orchestra in this CAM Look episode published on December 8, 2021.