Don't miss Taste of Duveneck on Thursday, June 11, 2015 6 – 9 p.m. Please join us for the 25th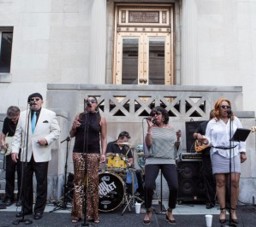 Anniversary presentation of A Taste of Duveneck. As always, the Art Museum and Alice Bimel Courtyard will be filled with great food, exceptional wine and beer, upbeat music from Soul Pocket, endless camaraderie and special Anniversary surprises. The funds raised will be used for the lighting and installation of artwork in The Millard F. Rogers, Jr. Gallery, part of the "Phase B" expansion of exhibit space at the Art Museum.
Coming soon to the Alice Bimel Courtyard: T

he Vine. Be sure to stop by and see this beautiful sculpture that will be installed this summer! Enjoy the view of the courtyard and nibble on some tasty entrees at the Terrace Café. We offer a full menu with a variety of soups, salads and sandwiches inspired by works in our collection.  Seating on the outdoor terrace may be in high demand this summer, so be sure to make a reservation!
Other events in the courtyard include adult and family programming.  This summer we will have a beer garden for our July happy hour at Art After Dark on July 31st from 5-9 pm. Here's a clip from May's Family First Saturday,  a day themed All Sorts of Sports!  We encouraged the kids to run around the courtyard, and draw at the same time. Check out this crazy fun game!