Greetings from the Rosenthal Education Center! It's been a busy and exciting past couple of months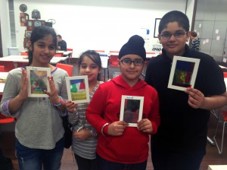 for the Cincinnati Art Museum's newest addition. The REC saw over 2,500 people of all ages come through its doors in the first month alone. We look forward to keeping this momentum going as we enter the summer months. The REC is the perfect destination for families looking for creative ways to take the edge off the heat while keeping kids' minds sharp.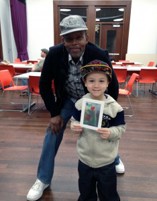 With the cloudy skies of April almost behind us, it's been a great time to stop by the REC to make a sun catcher. The sun catchers are a fun and flexible craft that continue to be a big hit with kids and adults alike. Not to mention, the finished product looks great! On the administrative side of things, we've been busy putting together a team of outstanding volunteers to work alongside the REC staff. Our volunteers assist visitors with the art-making activities, brainstorm new ideas, and keep the space looking as beautiful as it did the day it opened. We are always accepting new REC volunteers; those interested can check out the link on our website.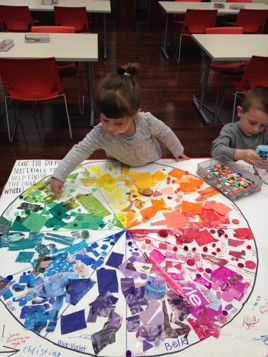 We are excited to introduce some new activities happening in the REC. Visitors can now participate in a collaborative art project, the color wheel collages. Every day we offer a variety of different 2D and 3D materials available for visitors to cut, arrange, and paste on to the coordinating segments of the color wheel. Once the white space on the wheel has been filled in, it gets hung up on the wall along with a list of those who participated. This is a great way to give budding artists the opportunity to say "My artwork is hanging in the Cincinnati Art Museum!"
Another program we are proud to announce is REC Reads, our very own story time. Every Saturday and Sunday at 12 pm and 3pm, a REC staff member or volunteer will host 30 minutes of energetic and silly story time for our youngest visitors and their families.
Next time you visit the REC, make sure you save time to participate in our coloring contest. Coloring sheets with each member of our mascot family, The Growsenthals, are available along with a space to put your name and phone number.  At the end of May, three lucky artists will be randomly selected to receive $10 gift cards to the Cincinnati Art Museum Shop.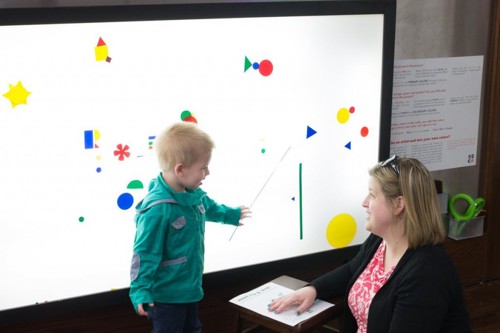 The Rosenthal Education Center FREE and open to the public Tuesday through Sunday 11 a.m – 5 p.m. Please visit the REC site for more information.
Images by Chelsea Baker and Kassandra Kessler