We recently chatted with female artist Anila Quayyum Agha in celebration of Women's History Month–commemorating and encouraging the study, observance, and celebration of the vital role of women in history.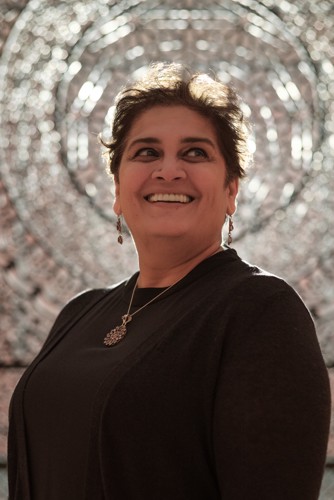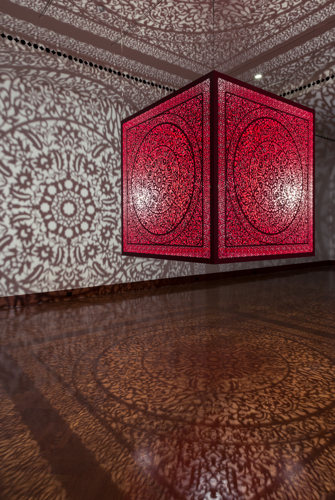 As the first acquisition of the newly inaugurated Alice Bimel Endowment for Asian Art in 2017, the Cincinnati Art Museum acquired the monumental and immersive sculpture All the Flowers Are for Me (Red) by the Pakistani and American artist Anila Quayyum Agha.
We installed it almost immediately, with staff and visitors alike awed by its power to transform the space. Agha created this work in 2016 to explore the disconnect she experienced while living in the United States and processing her mother's recent death in Pakistan.
This artwork is, in many ways, a manifestation of her personal grief, through that is not the sole intent. Now, in 2021, we are once again displaying this sculpture. We receive it today in a world that is experiencing a collective grief, as we continue to navigate a global pandemic and radical social change. We hope that the exhibition will provide a moment of respite and reflection.
Agha continues to create intricate works of art. Indeed, it is the physical act of creating, with both her hands and mind focused on the immediacy of the task, that allows Agha the space to think and connect. In the artist's words: "Tis meditative process of making reduces the noise of the outside world. I can process my experience while reliving joy."
Agha's studio is full of new work, as there are upcoming shows at New York's Sundaram Tagore Gallery (opening March 2021) and the Amon Carter Museum of American Art in Fort Worth, Texas (opening September 2021). Many of these works explore the changing environment and its detrimental effect on humanity, yet these themes are captured through moments of intense beauty and created in unexpected materials, like mirrored steel.
Since her work entered the museum's collection, Agha's career has continued to soar. She is currently serving as Professor and Morris Eminent Scholar in Art at Augusta University in Georgia, an esteemed position that combines teaching, studio work, and creating connections between students and artists. She has also been accepted into the Smithsonian Artist Research Fellowship Program in Washington, DC, and was awarded a residency at the Montalvo Arts Center in Saratoga, California as part of the Sally and Don Lucas Artists in Residency Program. Join us in congratulating Agha in the most authentic way–by experiencing her work at the museum, now on view in Gallery 234 through May 30, 2021.
Photograph courtesy of Bhadri Verduzco, Phillbrook Museum of Art
Anila Quayyum Agha (b. 1965), All the Flowers Are for Me (Red), laser-cut lacquered steel and lightbulb,Alice Bimel Endowment for Asian Art, 2017.7.