Download Press Release
CINCINNATI— A new book that chronicles the Cincinnati Art Museum's history through photographs will soon be available. Titled Cincinnati Art Museum, the book will be published as a part of Arcadia's "Images of America" series and available starting April 22, 2019.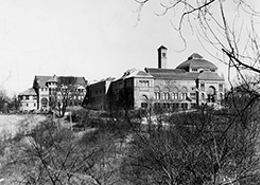 Cincinnati Art Museum tells the story of the museum from its founding in 1881 to present day. The book is organized chronologically, featuring 275 images of notable exhibitions, people and events from the past 138 years.
The images were pulled from the museum's archives, a treasure trove of information on the institution's history, and an exceptional resource for the study of art history in Cincinnati and beyond.
Cincinnati Art Museum Archivist Geoff Edwards agreed to author the book and sorted through nearly 30,000 prints, negatives and slides before settling on the final selection to be published. This collaborative project began in 2017 when Arcadia Publishing contacted the museum proposing a book of archival photographs.
"Compiling the images for Cincinnati Art Museum has made it especially evident how central the museum was, and continues to be, to the people of Cincinnati," said Edwards. "Though most photographs were chosen for their historical interest, I couldn't resist including a few simply because they made me smile. I hope the book brings back memories for those who know the museum well, while introducing it to those who don't."
Cincinnati Art Museum will be available for purchase in the Museum Shop beginning April 23, 2019. It will also be available for purchase at local book stores and arcadiapublishing.com. A book signing and meet-and-greet with Edwards will take place on Saturday, May 11 from 1–3 p.m. at the Museum Shop.
About the Cincinnati Art Museum
The Cincinnati Art Museum is supported by the generosity of individuals and businesses that give annually to Artswave. The Ohio Arts Council helps fund the Cincinnati Art Museum with state tax dollars to encourage economic growth, educational excellence and cultural enrichment for all Ohioans. The Cincinnati Art Museum gratefully acknowledges operating support from the City of Cincinnati, as well as our members.
Free general admission to the Cincinnati Art Museum is made possible by a gift from the Rosenthal Family Foundation. Special exhibition pricing may vary. Parking at the Cincinnati Art Museum is free. The museum is open Tuesday–Sunday, 11 a.m.–5 p.m. and Thursday, 11 a.m.–8 p.m. cincinnatiartmusem.org
About Arcadia Publishing
Arcadia Publishing & The History Press is the largest and most comprehensive publisher of local and regional content in the US. By empowering local history and culture enthusiasts to write local stories for local audiences, we bring readers closer to their community, their neighbors, and their past. Composed in a unique pictorial format with over two hundred vintage images and accompanying captions, Arcadia's Images of America series animates the cherished memories, people, places, and events that define a community. Learn more at arcadiapublishing.com.
# # #