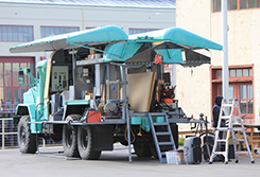 Download Press Release
CINCINNATI— A refurbished military vehicle turned mobile community center for new media art practices is coming to Cincinnati from July 3–5 as part of the Cincinnati Art Museum's No Spectators: The Art of Burning Man exhibition. 
The ArtCrawler is a 32-foot former US military vehicle that has been transformed to provide opportunities for the public to participate in artmaking and technological exploration. The vehicle has participated in the annual Burning Man event in Nevada's Black Rock Desert.
Under the direction of creator and artist Sean Pace along with Adam Larson (artist, projection designer and filmmaker), the ArtCrawler will provide visitors with a hands-on opportunity to work in wood, metal, and video. ArtCrawler (Community Roving Artists Workshop Lab for Educational Research) is a mobile education lab and workshop bringing technological design tools, hardware, software, and development facilities to lower and middle-income students with limited access.
"The No Spectators exhibition is inspiring visitors every day inside our museum, and now we are excited to provide an interactive art experience outside the museum, in Cincinnati neighborhoods," said Carrie Atkins Maras, Cincinnati Art Museum's Associate Director of Community Engagement.
ArtCrawler Cincinnati stops include:
Wednesday, July 3:     
Cincinnati Art Museum, 953 Eden Park Drive, Cincinnati, 10 a.m.–12 p.m.
Northside Rock 'n Roll Carnival at Hoffner Park, 4101 Hamilton Ave. Cincinnati, 5–10 p.m.
Thursday, July 4:        
Northside Fourth of July parade, 12 p.m.
Northside Rock 'n Roll Carnival at Hoffner Park, following Parade until 10 p.m.
Friday, July 5:             
Washington Park, 1230 Elm St, Cincinnati, 10 a.m.–3 p.m.
Price Hill Library, 3215 Warsaw Ave, Cincinnati, OH 45202, 5–8 p.m.
About the Cincinnati Art Museum
The Cincinnati Art Museum is supported by the generosity of individuals and businesses that give annually to Artswave. The Ohio Arts Council helps fund the Cincinnati Art Museum with state tax dollars to encourage economic growth, educational excellence and cultural enrichment for all Ohioans. The Cincinnati Art Museum gratefully acknowledges operating support from the City of Cincinnati, as well as our members.
Free general admission to the Cincinnati Art Museum is made possible by a gift from the Rosenthal Family Foundation. Special exhibition pricing may vary. Parking at the Cincinnati Art Museum is free. The museum is open Tuesday–Sunday, 11 a.m.–5 p.m. and Thursday, 11 a.m.–8 p.m. cincinnatiartmusem.org
# # #