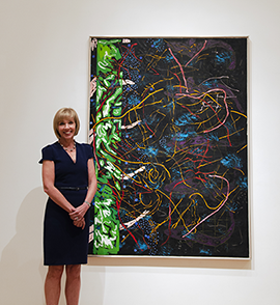 Download Press Release
CINCINNATI— The Cincinnati Art Museum is pleased to announce the election of new Board Officers for 2019–2020 including President Amy L. Hanson, CEO of Amy Hanson Advisory Services LLC, Chairman of the Board Andrew E. DeWitt, Founder & Executive Chairman of Dewey's Pizza, Vice President Polk Laffoon IV, freelance writer and civic volunteer, Treasurer Rance G. Duke, retired Vice President for Fort Washington Investment Advisors, Inc., and Secretary Bruce Petrie, Jr., Partner at Graydon Head & Ritchey. These roles began September 1, 2019 and run through August 31, 2020.
Six new Trustees will serve their first term from 2019–2022: Vada Hill, Paul Jantsch, Anu Mitra, Ph.D., Katrina Mundy, Lisa Sauer and Eddie Tyner.
Vada Hill is a creative and versatile marketing leader who works with Cincinnati CEO's and advises PE-owned startups. He is the former Chief Marketing Officer of Taco Bell, Fannie Mae, and Jackson Hewitt Tax Service.
Paul Jantsch is Senior Vice President of Corporate Strategy and Development at Cintas Corporation, overseeing long range strategic development and global merger and acquisition activity.
Anu Mitra, Ph.D., teaches in the Interdisciplinary Studies Program at the Union Institute & University. She has been a docent at the Cincinnati Art Museum and the Contemporary Art Center since 2002.
Katrina Mundy is a 16-year veteran volunteer at the Cincinnati Art Museum. She is President of the Voluntary Advisory Committee (VAC), Vice-Chair of the Donald P. Sowell Endowment Committee, and member of the Art in Bloom 2019 Planning Committee and the Women's Committee.
Lisa Sauer is Vice President Product Supply Global Home Care and P&G Professional at Procter & Gamble. She served on the ArtsWave Board for eight years, including three as Board Chair and currently as Life Trustee.   
Eddie Tyner is the Regional President for Gannett where he oversees business units in the Midwest. He serves on boards for ArtsWave, Children's Home of Cincinnati, Neediest Kids of All, Catholic Inner City School Education Fund (CISE), REDI Cincinnati and the United Way.
About the Cincinnati Art Museum
The Cincinnati Art Museum is supported by the generosity of individuals and businesses that give annually to ArtsWave. The Ohio Arts Council helps fund the Cincinnati Art Museum with state tax dollars to encourage economic growth, educational excellence and cultural enrichment for all Ohioans. The Cincinnati Art Museum gratefully acknowledges operating support from the City of Cincinnati, as well as our members.
General admission to the Cincinnati Art Museum is always free. Special exhibition pricing may vary. Parking at the Cincinnati Art Museum is free. The museum is open Tuesday – Sunday, 11 a.m.–5 p.m. and Thursday, 11 a.m.–8 p.m. cincinnatiartmuseum.org
# # #