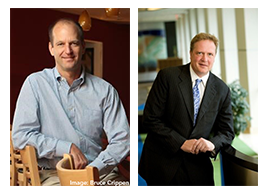 CINCINNATI— The Cincinnati Art Museum is pleased to announce the election of new Board Officers including President of the Board Andrew DeWitt (Left), President/CEO of Dewey's Pizza. Jon Moeller (Right), Vice Chairman and Chief Financial Officer of Procter & Gamble, was named Chairperson.
Amy Hanson, strategic consultant and former Macy's Executive Vice President serves as Vice President. Polk Laffoon IV, freelance writer and civic volunteer, serves as Treasurer. Cheryl Rose, Senior Vice President, Hawthorn, PNC Family Wealth, serves as Secretary.
In addition to the appointment of new Officers, five new Trustees have been elected: Michael Chasnoff, Dr. G. Anton Decker, Madeleine (Mady) Gordon, Tony Roberts and George Vincent.
Michael Chasnoff founded Truepoint Wealth Counsel in 1990. As CEO, he focuses on providing strategic vision and leadership to the firm and leading Truepoint's business development efforts.
Dr. G. Anton Decker, MBBCh, M.R.C.P., F.A.C.G., M.H.A., C.P.E., is the Chief Clinical Officer for Mercy Health, with responsibility for system-wide strategic clinical operations.
Madeleine (Mady) Gordon is the Founder and President of The Madeleine Gordon Gift of Life Foundation, a 501(c)(3) organization that provides financial assistance for deserving candidates of infertility care at UC Health.
Tony Roberts is a Managing Director and Senior Wealth Advisor at Riverpoint Capital Management. He has more than 15 years of experience in the financial services and investment management industry and works with high net worth individuals and their families in the management of their investment assets.
George Vincent has been managing partner at Dinsmore & Shohl LLP for over 10 years. During his tenure Dinsmore has become a national, full-service firm of over 650 attorneys in 21 cities.
###
About the Cincinnati Art Museum
The Cincinnati Art Museum is supported by the generosity of individuals and businesses that give annually to Artswave. The Ohio Arts Council helps fund the Cincinnati Art Museum with state tax dollars to encourage economic growth, educational excellence and cultural enrichment for all Ohioans. The Cincinnati Art Museum gratefully acknowledges operating support from the City of Cincinnati, as well as our members.
General admission to the Cincinnati Art Museum is always free. Special exhibition pricing may vary. Parking at the Cincinnati Art Museum is free. The museum is open Tuesday – Sunday, 11 a.m.–5 p.m. and Thursday, 11 a.m.–8 p.m.