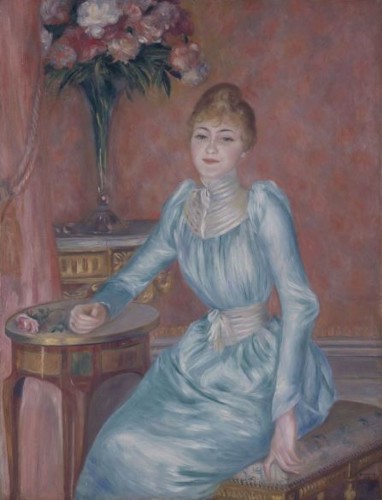 CINCINNATI— Your passport to Paris awaits. Tickets for special exhibition Paris 1900: City of Entertainment are now available online and at the Cincinnati Art Museum front desk. Be among the first to experience the special exhibition, on view March 1–May 12, 2019.
Paris 1900 features more than 200 works of art ranging from paintings, sculptures and posters to fashion, furniture and souvenirs. Notable artists include Pierre-Auguste Renoir, Camille Pissarro, Henri de Toulouse-Lautrec, Auguste Rodin, Antoine Bourdelle and Camille Claudel.
Museum members receive free tickets to Paris 1900, exclusive exhibition access and additional perks. CAM family memberships include two adult and up to five child tickets per visit. Individual CAM members receive one ticket per visit. An early-access Member's Opening will take place Thursday, February 28 from 5–7 p.m.
Due to expected crowds, guests are encouraged to purchase tickets before visiting the museum. Adult admission tickets are $12 at the museum, $10 with discount code ONLINE at cincinnatiartmuseum.org/paris. Tickets are $6 for college students, seniors (65+) and children (6-17 years).
Free access to Paris 1900 will be available on Thursday evenings from 5–8 p.m. and from 5–9 p.m. during Art After Dark events on March 29 and April 26. Free docent-led tours of the exhibition will take place at 6:30 p.m. on March 21, March 28, April 4, April 11, April 25 and May 9. Docent-led tours have a 20 person capacity and are subject to availability. To request a school or group tour, please contact [email protected]. A full calendar of events and programming related to the exhibition is available at https://www.cincinnatiartmuseum.org/events-programs/events-list/.
The Cincinnati Art Museum is the second of three partners in the United States to present this exhibition, which was originally presented at the Petit Palais in 2014. After the Cincinnati run, the exhibition will be on view at the Portland Art Museum in Oregon from June 8 through September 8, 2019.
This exhibition is presented by CFM International. It is organized with the generous support of the Harold C. Schott Foundation. Paris 1900: City of Entertainment will be on view in the Western & Southern galleries (galleries 232 and 233). It is organized by the Petit Palais Museum of Fine Arts, with exceptional loans from the Musée Carnavalet–History of Paris and the Palais Galliera Museum of Fashion, Paris Musées.
Photography is permitted, but no flash. On social media, use the hashtag #Paris1900. Find more information at cincinnatiartmuseum.org/paris.
Image credit: Auguste Renoir (1841–1919), Madame de Bonnières, 1889, oil on canvas, Petit Palais, Paris, © Petit Palais/Roger-Viollet
About the Cincinnati Art Museum
The Cincinnati Art Museum is supported by the generosity of individuals and businesses that give annually to Artswave. The Ohio Arts Council helps fund the Cincinnati Art Museum with state tax dollars to encourage economic growth, educational excellence and cultural enrichment for all Ohioans. The Cincinnati Art Museum gratefully acknowledges operating support from the City of Cincinnati, as well as our members.
Free general admission to the Cincinnati Art Museum is made possible by a gift from the Rosenthal Family Foundation. Special exhibition pricing may vary. Parking at the Cincinnati Art Museum is free. The museum is open Tuesday–Sunday, 11 a.m.–5 p.m. and Thursday, 11 a.m.–8 p.m. cincinnatiartmusem.org
# # #