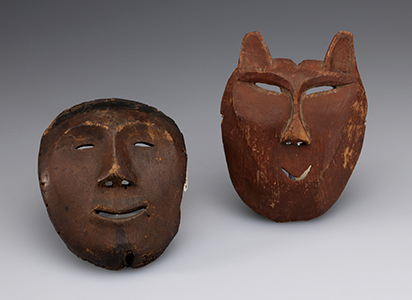 The artistic, cultural and spiritual legacy of the Eskimos of Alaska and the Inuit of the Canadian Arctic is the subject of a special exhibition The Lure of the Arctic: Eskimo and Inuit Artifacts from the W. Roger and Patricia K. Fry Collection at the Cincinnati Art Museum. Visitors will explore the adaptive lifestyles of the Arctic people through a display of more than 200 objects from this private collection, supplemented by 19th century artifacts drawn from the museum's collection. The exhibition will remain on view Oct. 20 through Jan. 20.
"For millennia, the Eskimos and Inuit people of the Artic North have flourished in a difficult and often challenging environment through their remarkable skills, resourcefulness and determination," said Glenn Markoe, curator of Classical and Near Eastern Art and Arts of Africa and the Americas. "Their extraordinary lifestyle has by necessity been oriented to the sea and the animal populations sustained by it. Visitors will have a chance to explore the utilitarian objects such as native tools, weapons, vessels, and articles of clothing which have helped them survive."
The exhibition will feature the outstanding collection on loan from W. Roger and Patricia K. Fry including pieces made of carved wood, bone, ivory, and animal skins and organs. The objects are presented in functional groupings, allowing visitors to get a closer look at how North American Arctic peoples used them for everyday pursuits, including hunting and fishing, recreation and a variety of domestic and social activities.
Visitors will also see for the time, a selection of the Cincinnati Art Museum's 19th century artifacts assembled by naturalist Edward W. Nelson, one of the first ethnographers to document the lifestyles of native Alaskan peoples.
"Explorers such as Nelson were responsible for some of the oldest ethnographic collections found today in museums worldwide," said Markoe. "The Art Museum is fortunate enough to have such early works in the collection that help document how the Eskimos of Alaska lived hundreds of years ago."
Also featured in the exhibition are an authentic kayak and an Eskimo umiak, an open boat made of walrus hides stretched on a wooden frame –both of which bear testimony to the technical ingenuity and craftsmanship of the North American Arctic people.
Fund Evaluation Group is the presenting sponsor for The Lure of the Arctic: Eskimo and Inuit Artifacts from the W. Roger and Patricia K. Fry Collection. Admission to this special exhibition is free; general admission is always free. Visitors can enhance their exhibition experience through programming.
Image: Human-face mask, 1850-1875, Point Hope, Alaska (left); Wolf mask, 1825-1850, Port Clarence, Alaska (right); On loan from the W. Roger and Patricia K. Fry Collection