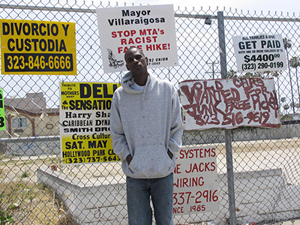 Up-and-coming Los Angeles based contemporary artist Mark Bradford will layer a myriad of global issues and urban sprawl into massive works of art this spring at the Cincinnati Art Museum. Three of his most recent collages are showcased in the special exhibition Maps & Manifests: New Work by Mark Bradford on view March 1 through May 25.
"Mark Bradford's pulsating art will help visitors better understand the changing landscapes of America and how global issues are relevant to their own communities today," said Aaron Betsky, director of the Cincinnati Art Museum.
Bradford pulls both his inspiration and the materials for his work from the diverse cultural and geographic makeup of his South Los Angeles neighborhood. His process is a multi-layered one. Bradford first collects paper from his surroundings such as local merchant advertisements, concert posters and flyers from chain-linked fences. He then manipulates these items and supplements them with more found, weathered materials. Using nontraditional materials such as foil and string, Bradford employs what he calls "an additive and subtractive" process, layering and sanding down the intricate surfaces of his detailed yet colossal collages that map the unseen networks of contemporary life.
By using paper that was actually a part of the social and economic activity of Bradford's surroundings, his collages reference both physical and psychological places. For example, his palette is affected by the colors used in the found advertisements, which vary in design from location to location.
Bradford is the recipient of many prestigious awards, including the 2006 Bucksbaum Award, the 2003 Louis Comfort Tiffany Foundation Award and the 2002 Joan Mitchell Foundation Award. He has been included in major exhibitions at the Los Angeles County Museum of Art, the Whitney Museum of American Art and the Studio Museum in Harlem.
Visitors can learn more about Mark Bradford on the award-winning PBS series Art:21, season four.
The Kaplan Foundation is the presenting sponsor. Supporting sponsors are Bill and Susan Friedlander and a Friend of the Museum. Contemporary exhibitions in the Vance-Waddell Gallery are supported by Alice F. and Harris K. Weston.
Image: Mark Bradford by Juan Carlos Avendano, Courtesy of Sikkema Jenkins & Co