Transcending Reality: The Woodcuts of Kosaka Gajin
February 11, 2017 – May 7, 2017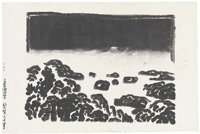 The Cincinnati Art Museum's Howard and Caroline Porter Collection is the largest repository of the woodcuts of Kosaka Gajin outside the family in Tokyo, Japan. This exhibition celebrates his prints capturing the beauty of Japan's landscape and architectural monuments in a way that is totally modern in its individualized expression, not unlike the era's action painting in the West. This exhibition of his later woodcuts will be the first solo exhibition of the artist's work in the United States.
Image: Kōsaka Gajin (Japanese, b.1887, d.1953), Darkness Over, circa 1950, woodcut, The Howard and Caroline Porter Collection, 1986.1436
Ticketed – free for members!
More Transcending Reality Info
Behind the Scenes in Conservation: Kōsaka Gajin Backing Removal
by Conservation | 1/26/2017
This winter the Paper Conservator has had the privilege of working on a group of Japanese prints by Kōsaka Gajin, an innovative artist whose work combined the traditional woodcut technique of earlier Japanese artists with the bold gestures of post-World War II Abstract Expressionism. Read more...