A painting in the collection of the Cincinnati Art Museum, and currently on view in the museum's forecourt, opens a window onto the overlapping layers of history, culture and identity that have united and divided Ukraine and Russia over the past five centuries.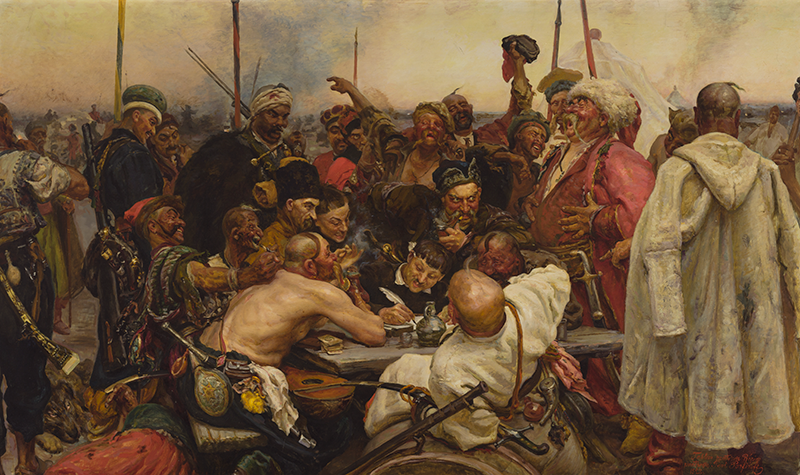 Paul Porfiroff [Pavel Fedorovich Porfirov] (Russian, 1873–1958), The Zaporozhian Cossacks Writing a Reply to the Turkish Sultan, 1928, oil on canvas, 50 x 84 1/2 in. (127 x 214.6 cm), Cincinnati Art Museum: Gift of Mr. and Mrs. Bayard L. Kilgour, Jr., 1970.104
This painting is a copy of one of the most iconic artworks made in the Russian Empire: The Zaporozhian Cossacks Writing a Reply to the Turkish Sultan by Ilya Repin (1844–1930). The scene imagines the historical circumstances around a letter that the Zaporozhian Cossacks—a people who lived in Ukraine from the 1500s to the 1700s—purportedly wrote in 1676 to the Ottoman Sultan, Mehmed IV, who had demanded their unconditional surrender,despite having just suffered a major military loss to them. Through the variety of postures and expressions of the warriors and his exacting realism, Repin characterized the mocking text laced with vulgarity they are jovially preparing.
Paul Porfiroff studied with Repin in the early 1900s at the Imperial Academy of Arts in St. Petersburg. In the late 1920s, Porfiroff made copies of several of his renowned teacher's paintings, possibly as part of a program to advance appreciation of Russian art in the United States in the early years of the Soviet Union. This copy is about 65% the size of the eleven-foot-wide primary version, which Repin completed in 1891.