Dialogues with Artists: Denise Burge and Sara Caswell-Pearce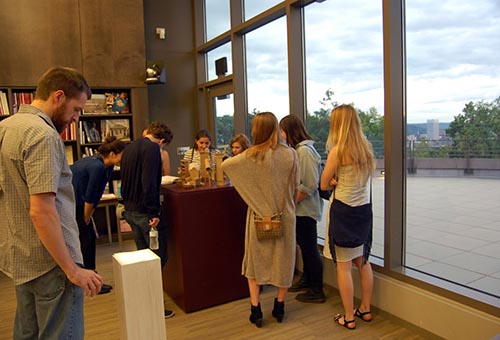 Thursday, April 30, 2020 at 6:30–7:30 p.m.
At this event you will have an opportunity to hear from two artists as they articulate an answer to the question: why do you make art and how does it determine your connection to your audience? Also, take an up-close look at their work. This popular event, now in its seventh year, moved to Thursday's evenings, as the museum stays open till 8 p.m. 
Informal conversation with artists is encouraged. Wine and cheese served. Free. Reservations not required.
This event takes place in the Mary R. Schiff Library & Archives.
About the artists:
Denise Burge, Professor, University of Cincinnati
Denise works in a variety of media, including drawing, animation, film, and fibers. One constant theme throughout the work is that of theatricality, fascination with objects of desire, and material ambiguity.  Her solo work, consisting primarily of painting and works in fabric, has been widely commissioned and collected, and included in two Quilt National exhibitions. Her collaborative work in film, animation and installation has been shown in several national and international film festivals. She has been awarded multiple awards and grants, including competitive residencies at the Headlands Center for the Arts, the Fine Art Work Center in Provincetown, and, most recently, the Joan Mitchell Center in New Orleans.
Sara Caswell-Pearce
Sara Caswell-Pearce is a collage artist, printer and graphic designer. Her passion is for finding antique images and helping them tell a new story via complex, layered collages in which she combines original antique illustrations and ephemera with hand-painted backgrounds, hand-pulled prints, and handmade and hand-cut paper. 
There is a wry feminist slant in much of her work that began when she came across hand-painted fashion plates from Godey's Lady's Book, a wildly popular 19th-century monthly magazine.
She was named a "Best of Cincinnati 2019" by CityBeat as "best patron saint of paper." Her work has been shown at many local and national exhibitions. She has a work in "Still They Persist," a feminist exhibition that is touring the country. Currently, she is the Mercantile Library's first artist-in-residence, and preparing new work for "Take Me Away," a solo exhibit that opens there next month.
She is the founder and creative director of the Paper With a Past Studio, co-author of Harper Ever After: The Early Work of Charlie and Edie Harper, and is a contributing artist/writer to Movers & Makers Cincinnati monthly.
Add to Calendar