Members Opening Lecture—Mysterious Grace: Researching the Art-Making Process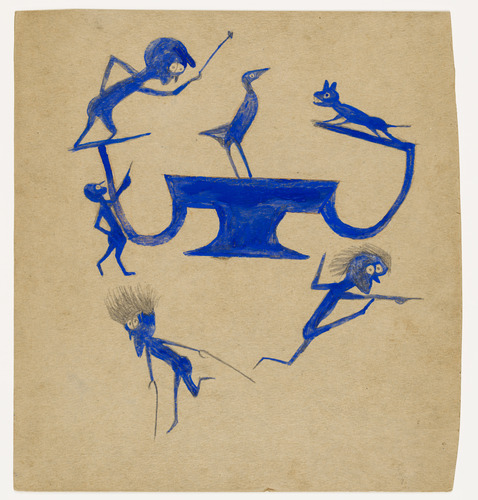 Thursday, June 8, 2023 at 7–8 p.m.
Fath Auditorium
FREE for Members, $20 general public, $5 students.
Reservations required.
About the Lecture:
Author, scholar and educator, Olivia Sagan (Professor and Head of Division Psychology, Sociology and Education at Queen Margaret University, Edinburgh) takes us on a tour of her lifelong passion for art and its interface with mental health. Olivia's semi-autobiographical presentation builds on "Graceful Mysteries" her essay for the exhibition catalogue Creating Connections: Self-Taught Artists in the Rosenthal Collection. It explores her research into the art-making process and why we continue to be fascinated by questions about the art-making process and mental well-being.
Drawing on Olivia's narrative research with artists who are self-taught, survivors, and/or living with long-term mental illness, Mysterious Grace draws on theories of creativity; non-verbal narrative and re-scripting; and reparation and the power of connection. It also critiques the persistent inequities in access to art making and encounters. The talk ends by asking the audience to consider the mystery inherent in art, and all that we don't know about the grace of it.
About the Guest Speaker:
Olivia Sagan completed her undergraduate degree in Fine Art (back in the twentieth century). While she prepared for her final exhibition, a multi-media exploration of violence against women, illness grabbed her and gave her a thorough shakedown. The silver lining: she learned a few things about the interface of illness and making—and unmaking— that gave her a sneak preview into the psychology of these.
Olivia completed a Master's Degree in Psychoanalytic Studies in 2000 while teaching and researching in a psychiatric institution. There, she watched and wondered at the disruptions of learning when the mind dysfunctions, closes, or opens in divergent and unpredictable ways. Following her graduate studies, Olivia trained as a counselor, and began her journey listening to people's stories—and their silences—when those stories could not be told or even remembered. She gained registration with the British Association for Counselling and Psychotherapy (BACP) and, fascinated and troubled by the "reluctant narrative" of people whose words did not come easily, she began PhD studies at University College London (UCL).
Olivia's PhD was a semi-autoethnographic, longitudinal psychosocial study of the ways in which mentally ill adults with low levels of education and articulation undertook to write autobiographically in a community setting. The output in 2008, was awarded the Institute of Education prize for Best Doctoral Research and lit the fuse for the research that followed, watching people make the unspeakable speakable, in word or image.
Olivia's research today is principally focused on l strategies , including art making, that people develop over time and through which they confront, negotiate, and make meaning of illness. She gained chartership as a psychologist in 2010 (CPsychol) and became an Associate Fellow of the British Psychological Society (AFBPsS) in 2014. Today, Olivia is Professor of Psychology at Queen Margaret University, Edinburgh, and lives in rural Scotland with her untrainable dog Lupin.
Click here for publications.
Image credit: Bill Traylor (American, circa 1853–1949), Exciting Event in Blue: Four Wild Men, Barking Dog, Perched Bird, and Construction, circa 1939–42, tempera, graphite pencil, and ink (or watercolor) on thin cardboard, 14 7/8 x 13 7/8 in. (37.8 x 35.2 cm), Collection of Richard Rosenthal, © Bill Traylor Family Trust.
---
If you have questions about this lecture, please email [email protected]. If you need accessibility accommodations for this program or event, please email [email protected]. Please contact us in advance to ensure accommodations can be made.
Add to Calendar
Purchase Tickets