Members Opening and NCECA Open House - Roberto Lugo: Hi-Def Archives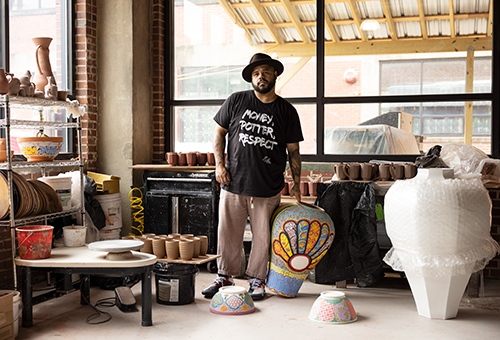 Thursday, March 16, 2023 at 5–8 p.m.
Fountain Room (Gallery 126)
Free for Members and NCECA Guests
Roberto Lugo (Puerto Rican-American, b. 1981) draws from his lived experience and deep knowledge of ceramic history to create works that elevate the stories of those historically absent from the decoration of extravagant examples of pottery. Lugo's multicultural mashups often combine classic forms and patterns with elements of hip-hop.
On Thursday evening, March 16, museum members and NCECA Conference Attendees are invited to see Roberto creating work in the galleries and enjoy light bites and a cash bar in the Fountain Room (Gallery 126).
Photo by Ryan Collerd, Courtesy of the Pew Center for Arts and Heritage
Add to Calendar