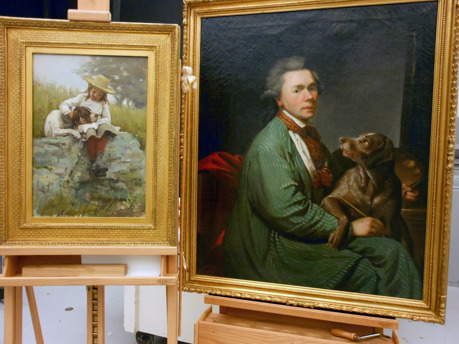 By a complete coincidence, there were two dog paintings in the paintings conservation lab a few weeks ago. On the right, the self-portrait by Martin Quadal had been conserved and was waiting to be installed in the gallery. It's now on view in the French gallery, G207. On the left, the painting by Theodore Robinson was in Conservation to be fitted in a beautiful new frame. Eli Wilner & Company, an antique and reproduction frame firm, generously donated this period reproduction frame to the museum. It's a great improvement. Let's just say the painting's previous (non-original) frame was a real dog!
Image Credits: (R) Martin Quadal (b. 1736, d. 1808), Self Portrait, 1788, oil on canvas, Cincinnati Art Museum, Bequest of Walter I. Farmer, 1997.118.
(L) Theodore Robinson (b. 1852, d. 1896), American, A Canine Patient, circa 1883, Cincinnati Art Museum, Gift of Mrs. A. M. Adler, 1970.751.