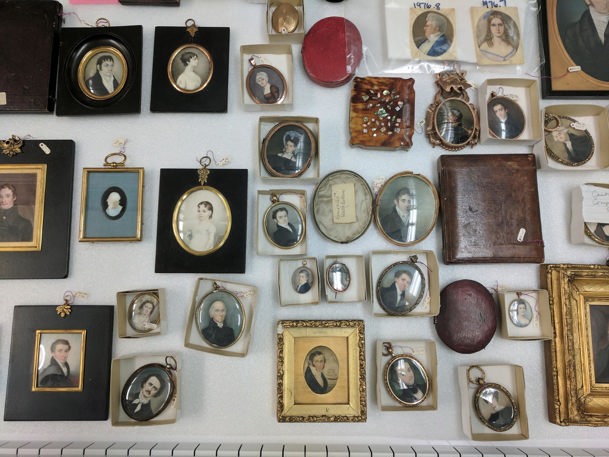 I'm Phoenix Brown, and this summer I'm working in the paper and textiles conservation labs as the 2017 Sowell intern. In the paper lab, I'm assisting in rehousing the museum's extensive portrait miniature collection. The purpose of the mounts are to protect the pieces from excessive handling and to organize them in storage. On a normal day, I create about 15 small trays made out of a thin acid-free cardboard, I gently place each miniature into the trays with gloves, then rewrite their accession number and storage location on the side of the mount.
The process can be quite tedious, but I can't help to feel a little joy when a miniature has a new home. They must get cold and lonely without a bed! I think it's funny to look into the drawer, and find all of the portraits staring back at me, as if I were disturbing their privacy.
While working in the lab, it's also nice to be able to look over my supervisor's shoulder to see what she's working on. I've learned a few tips along the way, such as:
Wearing nail polish is risky in any kind of conservation work, the polish can streak the surface of an art piece like a crayon. And,
It's possible to remove minor stains from paper (such as juice) just by placing a dry paper towel beneath the stained area of the sheet, and lightly dabbing the top layer of the paper with another piece of wet paper towel. The juice stain should soak into the paper towel beneath the paper without damaging its surface. Never rub!
Although it's impossible to reorganize all 2,000+ portrait miniatures in the collection in one summer, I truly appreciate the lessons of becoming more detail oriented, taking my time, and developing a stronger tenacity to take on large tasks. The work I do in the paper lab will definitely have an impact on the way I create artwork and how I store it in the future.