It's bath time again in textile conservation.  This cotton canvas dress is the Elizabeth Hawes Flag Dress, temporarily denuded of her silk flags which underwent treatment separately:
Behind the Scenes in Conservation: Game, set, MATCH! April 8, 2021
Behind the Scenes in Conservation: Brazilian Flag, October 20, 2016
The cotton canvas was very dirty and you can even see in this detail how the wash water is discolored to a murky, yellowish-brown from soiling and cotton degradation byproduct, a yellowish material that is generated as cotton ages. The bad news is that cotton always does this. The good news is that it washes away safely with water and soap!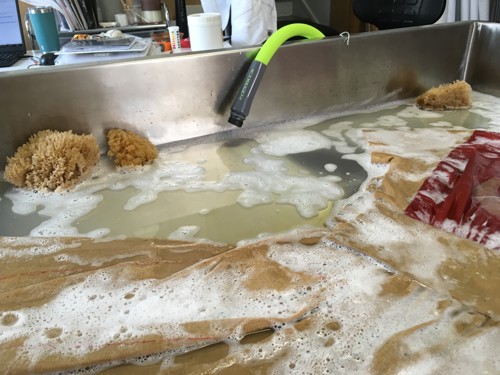 The dress was cleaned in a giant, stainless steel tub and sponged with natural sponges (which you can spot waiting next to the dress). Andrew W. Mellon Foundation intern Michelle can be seen here, gently working the soap solution through the dress as it lays flat in the wash bath: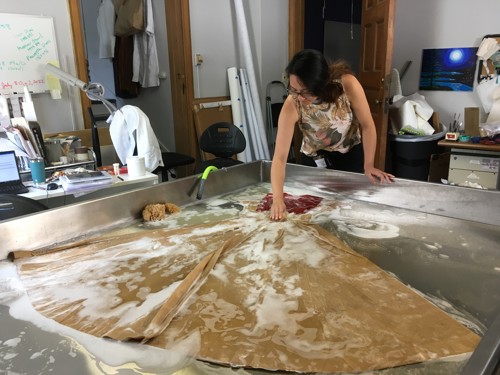 To rinse, fresh water is run into the table from the edge and the table tilts up. The angle allows the water to run off to a drain in the floor. The dress underwent a final rinse of deionized water (a super-pure, filtered water generated by a filtration system) and was laid flat to dry with stuffing to pad out the fold and creases.
Soon, the dress will be ready to be reunited with the conserved silk flags which will be hand-stitched back in their original locations.  
Elizabeth Hawes (American, b.1903, d.1971), designer, Flag Dress, cotton, silk, Museum Purchase: Fashion Arts Purchase Fund, 2011.31.