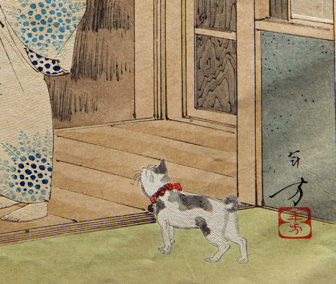 While examining the prints selected for exhibit in Master Cats, which opened July 12 in Gallery 213, the paper conservator noticed some interesting details in one print that visitors to the gallery will not see. 
After the Bath: Woman of the Kansei Era [Yuagari Kanseigoro Fujin], a color woodcut by Mizuno Toshikata (Japanese, b.1866, d.1908), printed in 1894, is a delicately colored print of a woman in a white kimono with a blue design.  The artist used the color of the paper for the white ground of the fabric.  The bold floral decoration of the garment might have been enough, but Toshikata further decorated it by embossing the paper to add subtle texture that can be seen and appreciated when the print is viewed close-up, and only when light strikes the paper from certain angles.  Details of the cat's fur are also created with embossing.  Gauffrage and karazuri are two terms used to describe the blind embossing technique frequently used by late 19th century ukiyo-e artists.  Unlike the white of the kimono, the cat's white fur is printed with white ink.  The alkaline nature of the white colorant has locally protected the back of the print, which produced an image of the cat when the surrounding paper darkened over time.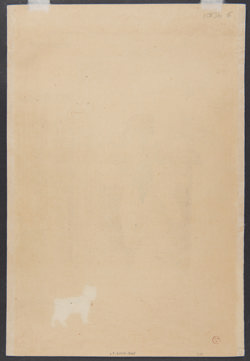 Because of the light-sensitive nature of the colors used on the Japanese prints, there will be three rotations, or switch-outs,  during Master Cats.  This print will be on view for 6 weeks beginning in early October.
Image Credit:
Mizuno Toshikata (Japanese, 1866-1908), Woman of the Kansei Era Just After the Bath [Yuagari Kanseigoro Fujin], Japan, 1894, color woodcut, Lent by Bernice Weisman, L7.2014.348