Last month we took our Magic Mirror to Ethicon Endo-Surgery for analysis to learn more about this ancient bronze object and the seemingly magical way it can project the image of the Amida Buddha under certain lighting conditions. We visited Ethicon's CT, Metrology, and SEM labs where experts performed several tests to help us better understand how the mirror was made and how it works. Non-destructive metal testing identified solder and helped us understand how the metal plates are attached. A scan of the reflective surface indicated a subtle domed shape to the mirror's surface; and as part of the testing, we were also able to complete a full CT scan of the mirror.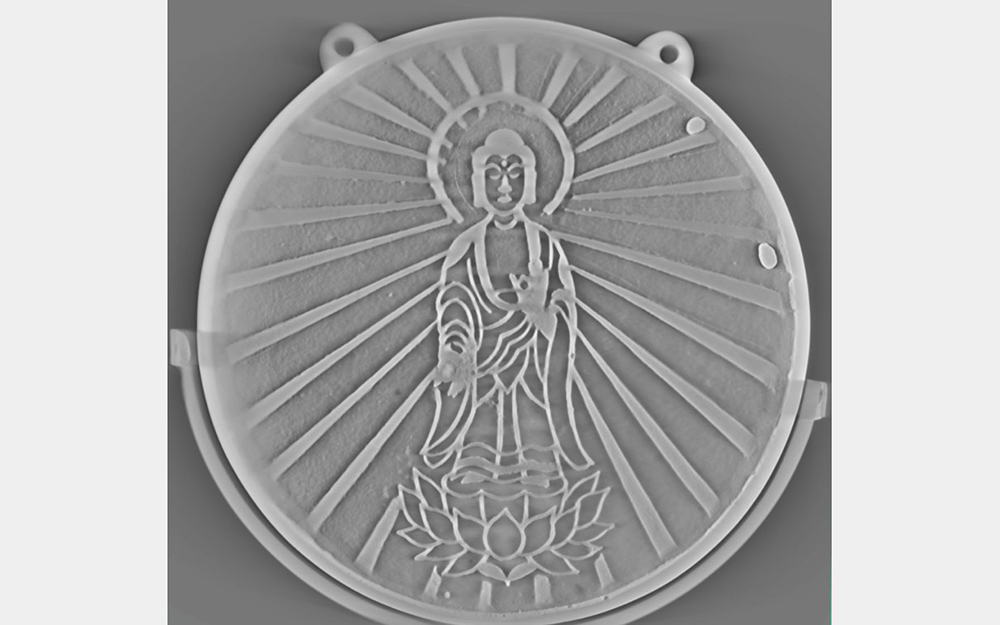 This CT scan provides an incredible, visually striking result, enabling us to see between the front and back plate of the mirror. As you can see in the CT scan, the image of the Amida Buddha is revealed in stunning detail. This level of detail could not be seen before due to the scratches and tarnish on the mirrored surface. The metalwork of the Amida Buddha exists in the very thin space between the back plate and the mirror surface. When this surface was polished, parts of the thin metal plate were pressed against this solid design causing a distortion in the thin surface just over the design; light reflects differently off this area, enabling the Buddha's image to be reflected when light hits the surface.
A big thank you to our friends at Ethicon Endo-Surgery for their analysis and help in making this discovery possible!