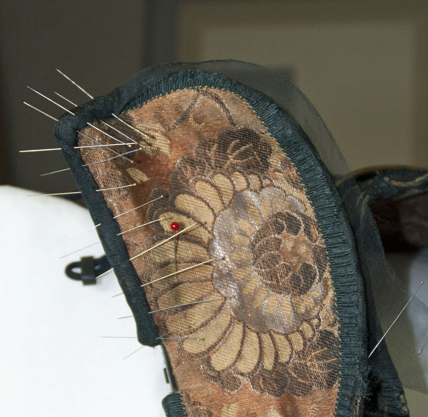 Can you see the various stages of the process going on here?  This is the underside of a shoulder flap from a set of samurai armor being prepared for display next year.  The blue-green silk cord which wraps around the edge split along the fold and fragments of it were being lost.  Our textile conservator is working to make it look complete and to protect what survives.  Some steps you can look for:
1) a dyed-to-match silk patch is tucked under each side of the cord to fill in the split edge and tacked in place (hint: it's a slightly different texture from the original cord)
2) a dyed-to-match silk crepeline overlay is stitched on one side (hint: it's been stitched on the opposite side from this view, so the free edge still sticks up)
3) the crepeline is folded around to protect all the layers and hold them together (hint: this is only partially-done, the pins are holding layers together)
4) the other edge of crepeline will be stitched down (this part isn't done yet).  When the conservation is finished, you won't see any of this!  The patching material will be almost invisible from the outer surface (which you will see on display) and this colorful underside will be out of sight. 
Image Credit: Japan; Suit of Armor, 18th century, Helmet bowl 16th century; iron, doeskin, lacquer, fabric, and fur; Museum Purchase; 1892.2784