Per Knutas (Chief Conservator) and Daniela Leonard (Fellow in Painting Conservation) are in the process of reviewing a group of fifteen paintings in preparation for the upcoming exhibition Eternal Summer: The Art of Edward Henry Potthast, which will be on display at the Cincinnati Art Museum from June 8 to September 8, 2013. Edward H. Potthast (1857-1927) was an American Impressionist from Cincinnati, most famous for his beach scenes of New York and New England. The exhibition will include lesser known subjects in the collection, such as Man and Child on an Ox Cart(1900).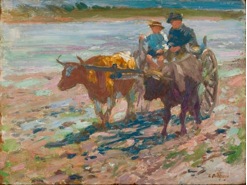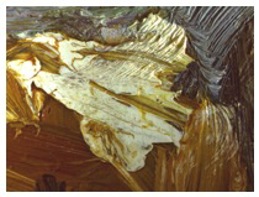 Edward H. Potthast, Man and Child on an Ox Cart, c. 1900, oil on wood panel, 12 x 16 x ¼ in., Cincinnati Art Museum, 2005.114. (top)
Microphotograph of highlight on ox rump. (bottom)
Close examination can provide clues about an artist's working method, such as the materials used and how the paint was applied. In many of his works it is possible to see that Potthast intentionally flattened areas of impasto during the painting process. For example, the white highlight on the brown ox's rump has been pressed down, but there is texture in the paint strokes applied on top.
It is hoped it will be possible to determine if certain paintings were executed in plain air, rather than the artist's studio. Sand or other debris imbedded in the paint can be an indication that a work was executed outside.