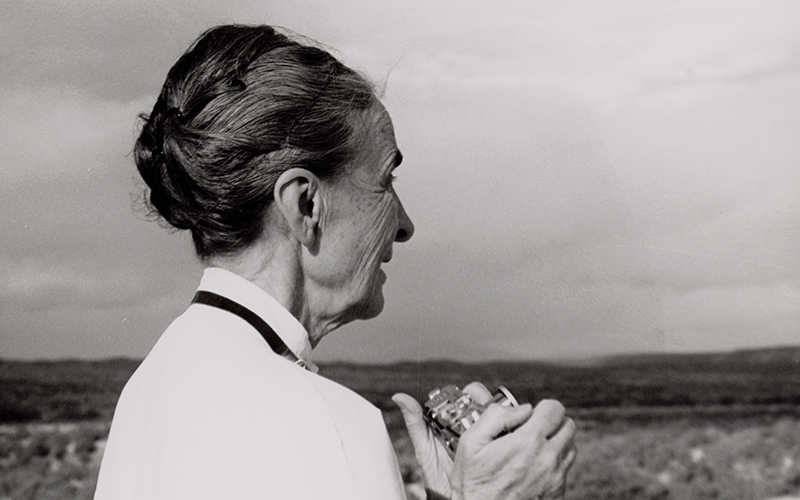 Todd Webb, Georgia O'Keeffe with Camera (detail), 1959, printed later, inkjet print, Todd Webb Archive. © Todd Webb Archive, Portland, Maine, USA
Inspired by the brilliant photography of Georgia O'Keeffe, Montessori students from the Xavier University Montessori Lab School experienced a novel three-part lesson about the innovative female artist. While Georgia O'Keeffe is most famous for her paintings of flowers and landscapes, both rural and metropolitan, her photography is less well known. The exhibition Georgia O'Keeffe, Photographer is a tribute to her stunning black and white photographs.
The Montessori instructors initially introduced students to O'Keeffe's biography, her travels, and her interest in capturing tiny moments in time. They compared and contrasted her paintings and drawings with the photographs from the exhibition. What the students noticed instantly was how O'Keeffe was able to draw viewers in by focusing on the smallest details of her subjects, such as the foamy bubbles in Waiʻanapanapa Black Sand Beach and the pistil and stamen of Jimsonweed (Datura stramonium).
After the students became familiar with the artist's work, they were introduced to a polaroid camera. Small groups then went on nature walks and each student took photographs of their own! These budding photographers were able to draw or paint their photographs on paper, utilizing their own artistic expression as their muse did. Their final task was to write a letter to Georgia O'Keeffe, telling her about their own creative process.
Some of the sweetest notes included, "Dear Georgia, I took a pitr of a tre. You wud like my pichur," and "Dear Georgia, I took picshrs. It is a picshr of a ded plant. I got close like you."
By introducing young children to diverse artists and pioneers, we invite them to try different techniques, embrace new perspectives, and develop their own artistic skills. 
Join me for this month's Evening for Educators, on Thursday, February 16, at 4 p.m. to learn more about Georgia O'Keefe and how to share her work with young children.
Evenings for Educators is the Cincinnati Art Museum's monthly teacher professional development program. To learn more and register for this session, please visit the museum's calendar of events.