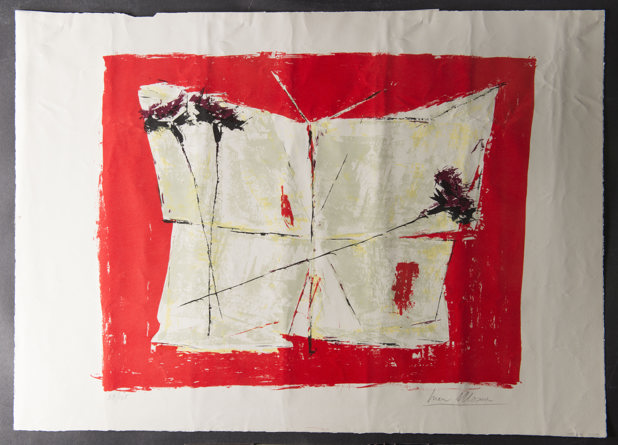 A new display of prints depicting artists' varied interpretations of flowers opened this week in Gallery 213.  A color lithograph by Italian artist Ivan Mosca needed some help before going on exhibit.  Butterfly with Three Carnations had complex creases across the paper which appeared to have been created when the print was rolled for shipping, and then the rolled print was crushed, probably when it was on its way to Cincinnati for the Fifth International Biennial of Contemporary Color Lithography,
February 28 to April 15, 1958.  The lithograph on heavy rag Fabriano paper was slowly humidified to swell and relax the fibers, and before it dried, the paper conservator gently manipulated the creases with bone and silicone rubber tools.  The print was then dried under weight to help flatten the sheet.  It was necessary to humidify and press the print several times to reduce the distortions in the paper.  Unfortunately, when paper is creased, complete reversal of the damage is almost never possible.  More careful packing of the print 60 years ago might have prevented the damage.  Come see this and the other "Flowers in Prints" before the display closes in November.
Image Credit: Ivan Mosca (Italian, b.1915, d.2005), Butterfly with Three Carnations, 1957, color lithograph, Museum Purchase, 1957.250.